Rutgers University's Office for Research Hosts Fall Symposium as part of its Research Incubator in Climate and Health Initiative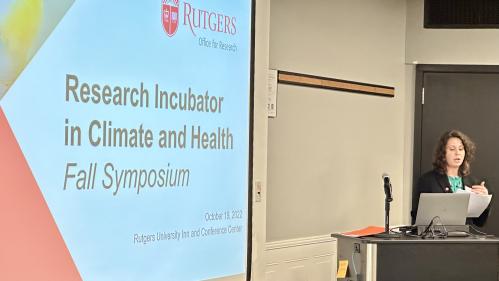 Faculty, staff, and students attended the Research Incubator in Climate and Health Fall Symposium on October 19 at the University Inn and Conference Center in New Brunswick. The event, hosted by Rutgers Office for Research, provided a forum for 29 faculty across different Rutgers University chancellor-led units to pitch short 8–10-minute presentations and gather feedback to further develop ideas on research projects related to climate change and human health.  
Topics of the Fall Symposium event included the effects of climate change and extreme weather on mental health, impacts of climate change on mosquitoes, climate change-induced algal blooms, introducing plant-based diets to underserved communities, curriculum development in education, among many other ideas.  
The event offered faculty members mechanisms to build and seed collaborative research projects among interdisciplinary groups, supported pilot projects for early-career faculty, and provided enhanced support mechanisms for participants toward external funding submissions.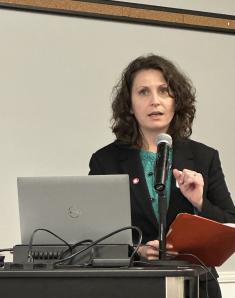 "This event, as part of the broader Research Incubator in Climate and Health, embodies how research development can leverage its capabilities in research intelligence, proposal development, and network building to craft opportunities for researchers to seek out feedback on new research project ideas from an interdisciplinary group of their peers and expand connections across the institution," said Marika Dunn, PhD, executive director of Research Development at the Office for Research.
Dunn gave the opening plenary remarks and spoke about how climate and health are areas of interest across all chancellor-led units and thanked the partnership of climate-health researchers who helped make the day's event possible. 
"Over the past 18 months, a working group comprised of all four vice chancellors for research shared and discussed their units' areas of strength, capacity, and growth opportunities, and circled issues of climate change, health, and health equity as areas of interest that spanned across campuses," said Dunn.  
In addition to that, "public and private sponsors of research have explicitly called attention to the need for new research into the health effects of climate change to foster bold solutions for local and global communities. For example, the National Institutes of Health released a Climate Change and Health Initiative Strategic Framework earlier this year to guide future research investments in this area. We anticipate a flurry of new funding opportunities in this space. The time is ripe to help researchers here at Rutgers get in the best position to take advantage of these opportunities," continued Dunn. 
"Key drivers of climate change such as increased temperature, extreme precipitation, and sea level rise affect every health exposure pathway from water resources to air quality and changes in infectious agents and these have health consequences for humans and ecosystems," said Marjorie Kaplan, Dr. P.H. associate director Rutgers Climate Institute and co-director NJ Climate Change Resource Center. "As our climate warms and gets wetter, we need to better understand the mechanisms that drive health impacts so we can strive to mitigate but necessarily adapt to these changes."
The Research Development team at the Office for Research supports faculty by providing tools, training, and expertise to build capacity for obtaining external funding. Services include identifying funding opportunities, administering limited submissions, providing support for complex, large-scale proposals, and other activities that support the research mission of Rutgers.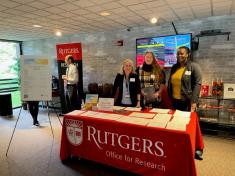 Those who presented their research at the event participated as either an early-career, single-investigator track or a team track and are now eligible to apply for internal funding through the Research Incubator's seed funding initiative which offers up to $50,000 for single principal investigator(PI) projects from early investigators and up to $150,000 for multi-PI projects led by any eligible faculty.  
Catherine Chen, MD, FACP, assistant professor of medicine in the division of general internal medicine and the director of internal medicine bootcamp at the Rutgers Robert Wood Johnson Medical School presented her research at the symposium and said, "the feedback I received will be helpful in the further development of our project.  Refining the work and thinking about different aspects which improve the clarity and scope of the project was also very valuable. I would encourage others to attend events like this in the future and I appreciate the effort that the Office for Research has put into events like this that cross multiple Rutgers disciplines."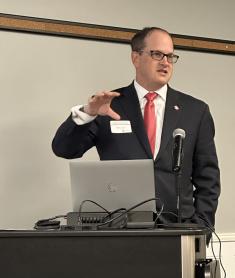 Michael E. Zwick, PhD, senior vice president for research at Rutgers University and Gloria Bachmann, MD, MMS, associate dean for women's health and professor of obstetrics, gynecology, and medicine at Rutgers Robert Wood Johnson Medical School, co-chair of the New Jersey One Health Steering Committee, and core faculty member of the Rutgers Global Health Institute, gave the closing plenary remarks.  
"Grand challenges facing our world, such as climate and health, are best addressed by interdisciplinary teams of investigators who partner to pursue solutions," said Zwick. "At Rutgers, these sorts of broad research span faculty expertise found in multiple chancellor-led units through various academic initiatives such as the Rutgers-New Brunswick Academic Master Plan and the Rutgers Biomedical Health Sciences Strategic Plan. The Research Development team helps bring these faculty communities together to explore how we might partner to pursue high-impact research and scholarship." 
In her remarks, Dr. Bachmann mentioned how important it is, to address all issues that impact humans, animals, plants, and the environment in a more inclusive way.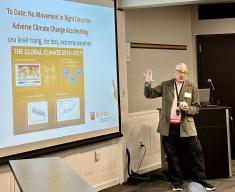 "I can personally say that through the Office for Research and their support of the Regional One Health Consortium, the first one to bring together professionals from 7 states, several endeavors that involve Rutgers faculty in the areas of research scholarship and creative endeavors are now moving ahead. This would not have flourished in such a timely manner without the Office for Research support," said Bachmann. 
This event is one of many that are being hosted at Rutgers throughout October including the Regional Symposium on Climate Change, Planetary, & Human Health hosted by the Rutgers Environmental and Occupational Health Sciences Institute (EOHSI), which will be held on October 28 and the Climate Change Health & Justice: Fifth Annual Environmental Health Summit which was hosted by the Rutgers Center for Environmental Exposures and Disease at the Rutgers Global Health Institute on October 14. 
The Research Incubator in Climate and Health is one of many signature events hosted by the Office for Research whose mission is to support and sustain the research, scholarship, and creative endeavors of all Rutgers faculty.