Two Rutgers Professors 'Embrace' the Challenge of Developing Novel Cancer Treatments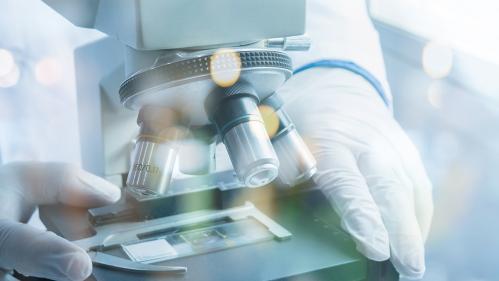 Rutgers startup MBrace Therapeutics was founded to improve the lives of patients with cancer.
A pair of Rutgers professors have partnered with a former colleague to form a startup with the goal of developing novel cancer treatments based on the use of antibody drug conjugates.
Wife-and-husband team Renata Pasqualini and Wadih Arap, who are professors and division chiefs at Rutgers Cancer Institute of New Jersey in Rutgers Biomedical and Health Sciences, founded MBrace Therapeutics with Isan Chen, a colleague of theirs from MD Anderson Cancer Center in Houston and former classmate at the University of Sao Paulo in Brazil. The mission of the startup is to benefit patients with cancer through the discovery of new, targeted treatments.
"The company is founded on the research conducted in part by Drs. Pasqualini and Arap to discover and validate new targets and simultaneously identifying an antibody that binds to the target," said Chen, who serves as CEO of MBrace. "Our goal is to discover and advance novel drugs to offer novel treatment options to cancer patients."
"The specific program that MBrace licensed from Rutgers is quite appealing because the strategy involves not only discovering the target but simultaneously having a guided system to deliver a therapeutic payload," said Pasqualini. "The discovery also takes place in vivo, in the microenvironment in which ligand-directed therapeutics attack the tumor with a payload that kills cancer cells. So that's rather unique as well."
She continued, "We have a collection of molecules that we have discovered, characterized, and published on, but we elected to prioritize two for MBrace's initial ADC programs because they have highly favorable properties as far as selective tumor localization and receptor-mediated internalization. Our preliminary data show that both the efficacy and safety profile of these antibody drug conjugates is rather impressive."
In the world of cancer therapies, "targets" are the specific molecules that are involved in the growth, progression, and spread of cancer, according to the National Cancer Institute. Further, an antibody drug conjugate (ADC) is a compound made up of a human monoclonal antibody chemically linked to a drug. The antibodies recognize specific proteins or receptors found on certain types of cells, including cancer cells. The linked drug enters these cells and kills them without harming other normal, healthy cells.
According to Chen, ADCs leverage strategies to attack and destroy cancer cells while minimizing the impact on healthy, normal cells. "With antibody drug conjugates, you make an antibody, attach a drug to it, and the antibody will then work as a guided missile and seek out the specific cancer cells," he said. "When Drs. Pasqualini and Arap showed me the results of their research, and the two targets of their focus, I realized that 'these two targets are ideally suited for the development of new ADC-based therapies.'"
Pasqualini, Arap and their team developed a screening system named SPARTA (Selection of Phage-Displayed Accessible Recombinant Targeted Antibodies). This process generates antibodies that can be formulated as ADCs. The intellectual property associated to this technology was licensed to MBrace.
After raising $4 million during the pandemic and using that to test the ADC, the results showed that these antibody drug conjugates were very effective in killing the cancer cells in vitro. They also have potent anti-tumor activity in vivo.
The next step for MBrace was to raise funds to expand the research, and thanks to the promising data, the company was able to close Series A financing in November 2021.
Pasqualini and Arap will continue their work at the university while serving as a board member and scientific advisor, respectively, at MBrace, which has an exclusive global license with Rutgers. The company also sponsors research performed in the Arap-Pasqualini Laboratory at CINJ.
"Through Rutgers, we were able to lease laboratory space for MBrace in Summit, NJ with state-of-the-art equipment and all the resources we could possibly require," said Pasqualini. "For this reason and many others, I must say that we have found Rutgers to be one of the most pro-success environments for translational research and development. The people at Innovation Ventures are tremendously supportive. I can't tell you how devoted they are, how thorough and sophisticated they are, in terms of paving the way for you to be able to commercialize discoveries. This is not a given at all. Starting with the efficient prosecution of intellectual property, through filing of patents, and also making sure that you have freedom to operate, you have all the pieces together, a safe and reliable way to secure investment in a competitive space such as biotech."
"The research conducted by Drs. Pasqualini and Arap is important in the battle against cancer," said Tatiana Litvin-Vechnyak, Associate Vice President of Innovation Ventures at Rutgers Office for Research. "The collaboration between Renata and Wadih, MBrace, and Rutgers will enhance and expand their study of the use of antibody drug conjugates and cancer treatments."
Innovation Ventures is the technology commercialization team within Rutgers Office for Research, focused on transforming research at Rutgers into real-world products and solutions through each step of the process: filing for patent applications; marketing the invention to relevant industry partners; and providing funding to establish feasibility, build prototypes and gather proof-of-concept data. The team facilitated the exclusive license agreement of Pasqualini and Arap's innovation to MBrace Therapeutics.