Rutgers Core Services Empower Researchers and Companies to Expand Their Innovations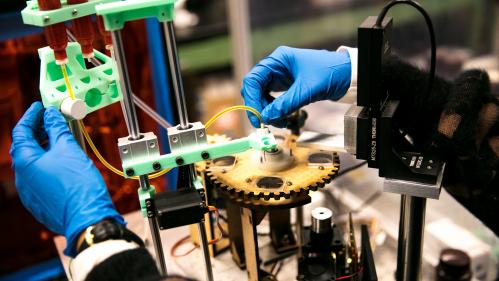 As a public research university, Rutgers also serves as a research hub for the Garden State and beyond, providing integrated support and resources for innovators and established or emerging companies seeking to advance critical R&D goals.
Among these resources is Rutgers Core Services, offering specialized laboratories with state-of-the-art equipment, unique instrumentation and shared services managed by scientists with technical expertise and experience and available on a fee-for-service basis. These facilities provide a robust capability for researchers and companies in a variety of industries that may not have the resources to purchase the necessary equipment to further their discoveries.
"We staff our comprehensive research cores with expert scientists and many of our facilities feature modern, high-end research instruments that many emerging biotech companies may not currently possess," said Vincent Smeraglia, executive director of core services. "Our strategy is to actively team with companies from New Jersey and around the world. Our cores allow biotechnology and other companies to further their research and development goals by collaborating with Rutgers and gaining access to an array of cutting-edge equipment and world-class scientists."
While many companies that use Rutgers Core Services are from New Jersey, New York and Pennsylvania, Rutgers research cores have successfully provided services to firms across the United States, Europe, and Canada.
A recent example of a company accessing Rutgers core facilities is Lactiga. Co-founded by a double Rutgers graduate Rik Mehta (Rutgers Ernest Mario School of Pharmacy, Rutgers Law School), Lactiga's mission is to unlock "the full therapeutic value of human milk" to develop anti-infectives that fight dangerous pathogens. The company recently applied for and received a Catalyst R&D Voucher for $25,000 from New Jersey Commission on Science, Innovation and Technology (CSIT) to use at Rutgers' core facilities. The voucher pays for the cost of leveraging R&D resources, facilities, and equipment at the State's academic universities and colleges to advance a company's technology development.
"The Lactiga team is thrilled to kick off this R&D partnership with Rutgers University Core Services," said the company's founders Mehta and Viraj Mane. "The New Jersey pharmaceutical ecosystem and the Rutgers campus are perfect resources for a young company like ours to advance pre-clinical leads to clinical assets. The CSIT grant further supports our efforts at using state-of-the-art Rutgers equipment to develop transformative therapeutics."
CSIT is part of New Jersey Economic Development Authority (NJEDA). It offers multiple grant opportunities to strengthen the innovation economy within the State, encourage collaboration and connectivity between industry and academia, and translate innovations into successful high growth businesses.
Thanks to Pavita Howe, director of entrepreneurship partnerships, a shared area between Rutgers Office for Research and Rutgers University Foundation, Lactiga co-founders Mehta and Mane made a vital connection with Rutgers Core Services. They will now be able to advance their lead R&D program substantially.
"Rutgers understands that sometimes innovation requires academia, government, and industry working together," said Howe. "Entrepreneurship Partnerships has connections to all three areas and also serves as a point of contact for emerging companies and startups that want to connect with the Rutgers community. Through these connections, we can facilitate access to resources, expertise, as well as our alumni network to help foster innovation and support startups in the Rutgers ecosystem."
On June 29, Rutgers will host the New Jersey Research Cores Partnering Conference to highlight and showcase the cutting-edge resources and facilities available to innovators at universities and companies across the Garden State. The event is open to researchers at companies and universities across New Jersey. To register and for more information on the event, click here.
Another way to connect with Rutgers on potential research collaborations is ResearchwithRutgers.com. This free, online gateway allows visitors to search the university's expansive research network for leading experts, facilities, and capabilities in STEM-related fields. The portal is part of a broader initiative called Research with New Jersey, led by the State to increase innovation exchange, establish greater collaboration between academia and industry, aid universities in managing research enterprises, and help market New Jersey as a center of innovation.
Any companies interested in learning more about Rutgers' resources that support research and innovation should contact Pavita Howe or Vincent Smeraglia for more information.