Technology Developed at Rutgers Sublicensed to Global Biopharmaceutical Company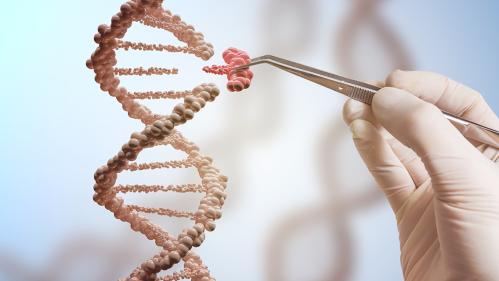 Base editing technology invented at Rutgers, The State University of New Jersey, and exclusively licensed to Revvity, Inc. subsidiary Horizon Discovery, has been sub-licensed to biopharmaceutical company AstraZeneca to support its creation of cell therapies for the treatment of cancer and immune-mediated diseases.
Rutgers Robert Wood Johnson Medical School professor Victor Jin and his then postdoctoral research fellow Juan-Carlos Collantes developed an RNA-Aptamer-Mediated Base Editing system for editing genetic code at the individual base level in a cell or an organism. The innovation, marketed as Pin-pointTM base editing technology by Revvity, enables precision genetic engineering for gene therapy, cell therapy, and agricultural improvement. Rutgers Office for Research's Innovation Ventures executed the exclusive license of the technology to Revvity.
"I am excited that through the exclusive license between Revvity and Rutgers, Revvity subsequently sublicensed the technology to AstraZeneca, giving one of the world's leading biopharmaceutical companies access to the Pin-pointTM base editing technology for therapeutic cell engineering, which has broad applications in gene and cell therapy," said Jin. "We have a common vision with Revvity to democratize the Pin-PointTM technology, making it accessible to small and large companies alike to advance our shared mission to help people live better, healthier lives."
"The technology and the research behind it epitomize Rutgers excellence, as it has the potential to change how certain genetic diseases are studied and treated," said Michael E. Zwick, PhD, Senior Vice President for Research and a professor in the Department of Genetics at Rutgers School of Arts and Sciences. "Drs. Jin and Collantes exemplify what it means for Rutgers to be a nationally renowned research institution, with innovations that can positively impact the world."
According to the National Cancer Institute, Clustered Regularly Interspaced Short Palindromic Repeats (CRISPR) are the foundation of CRISPR-Cas9 genome editing technology, which is a specially designed RNA molecule that guides an enzyme such as Cas9 to a specific sequence of DNA. The enzyme cuts the DNA, and the cells' repair mechanisms enable the placement of a new piece of DNA.
However, conventional CRISPR technology depends on double-strand breaks (DSBs) to trigger the repair mechanism, which may lead to undesired genetic events such as off-target insertions, deletions, and chromosomal translocations. The technology developed by Jin and Collantes allows for sequence-directed genetic engineering in DNA or RNA, with proven high efficacy and low to absent off-target effects, and multiplexing base editing. They received a 2022 Edison Patent Award in biotechnology for their technology's use in the field of human health. 
"The sublicense of Drs. Jin and Collantes' technology to AstraZeneca is a great development," said Deb Perez Fernandez, Acting Executive Director of Innovation Ventures, the technology transfer unit of Rutgers. "We are proud of the support we provided Drs. Jin and Collantes, from patenting the technology to negotiating the exclusive license with Revvity."
The mission of the Rutgers Office for Research is to support the research, scholarship, and creative endeavors of all Rutgers faculty. Through similar partnerships with university researchers, the Office for Research brought in $13.4 million in licensing revenue in FY22. Learn more by visiting research.rutgers.edu.