Rutgers Inventors Receive Edison Patent Awards in Biotechnology, Defense Categories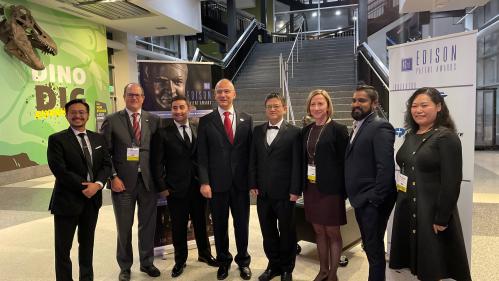 A drone that can fly, float, swim, dive, and transition between air and water in less than a second. Technology that can change the genetic code at the individual base level in a cell or an organism. These two innovations, both invented at Rutgers, The State University of New Jersey, received 2022 Edison Patent Awards at the Research & Development Council of New Jersey annual banquet on Thursday, Nov. 3.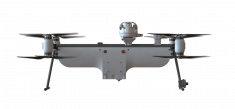 Rutgers School of Engineering professor of Mechanical and Aerospace Engineering F. Javier Diez-Garias and Marco Maia received the Defense Award for "Unmanned Air And Underwater Vehicle" patent (U.S. 10,315,762). Created at Rutgers, the "Naviator" is the first drone that can operate in multiple and different environments through its multiplane propulsion system. It is designed to transition to and from airborne and underwater operations easily and repeatedly, and robust enough to work in a variety of weather conditions and underwater currents.
"It is never easy to bridge multiple industries, and the Naviator air-water platform does just that--bringing together aerial and underwater disciplines in a manner not thought possible until now. We are very honored for our work to receive the recognition that comes with the Edison Patent Award," said Diez and Maia. "Thomas Edison said, 'There is no substitute for hard work,' and we employ this philosophy on a daily basis with our incredible team to invent and execute out-of-the-box ideas."
Robert Wood Johnson Medical School associate professor Shengkan (Victor) Jin and his then postdoctoral research fellow Juan Carlos Collantes took home the Biotechnology award for "Nuclease-Independent Targeted Gene Editing Platform and Uses Thereof" patent (U.S. 11,479,793). This invention, developed at Rutgers, provides a technology for editing genetic code at the individual base level in a cell or an organism. The technology enables precision genetic engineering for gene therapy, cell therapy, and agricultural improvement.
"It is a great honor to receive this award," said Jin. "The Pin-point base editing technology we invented provides a safe platform for developing therapeutics that could potentially treat many genetic diseases and some types of cancer. I hope that the prestigious Thomas Edison Patent Award recognition will propel the technology for broader adoption by biotech and big pharma alike."
Rutgers Innovation Ventures, the technology transfer office for the university located within the Office for Research, was instrumental in the advancement to commercialization for both technologies. Innovation Ventures helped Diez-Garias and Maia create the startup SubUAS, LLC and executed an exclusive license between the university and the company, and signed an exclusive license for Jin's innovation with Horizon Discovery.
"Drs. Diez-Garias, Maia, Jin, and Collantes exemplify the creativity and excellence of Rutgers faculty. Receiving two Edison Patent Awards in a single year is a terrific accomplishment and is a testament to the diverse and important research conducted daily on our campuses," said Michael E. Zwick, senior vice president for research at Rutgers. "Rutgers University investigators play an essential role in helping shape and realize the promise of New Jersey's innovation ecosystem."
"We are incredibly proud of, and happy for, Drs. Diez-Garias, Maia, Jin and Collantes. Their inventions are very deserving of these honors," said Tatiana Litvin-Vechnyak, associate vice president of Innovation Ventures, which facilitated the commercialization endeavors for both innovations. "The success of their inventions highlights the strength of the Rutgers research community and the importance of the support that the university, the Office for Research, and Innovation Ventures provides to all Rutgers researchers."
The Edison Patent Awards, named for Thomas Edison and now in their 43rd year, include 14 categories and are presented annually by the Research & Development (R&D) Council of New Jersey to recognize and highlight the "broad array of research conducted in the state." A team of R&D Council researchers selects the winners after evaluating nominated patents "based on the significance of the problem addressed, its utility/socioeconomic value, [and] novelty and commercial impact." The 2022 event was held on November 3rd at Liberty Science Center in Jersey City. To read the RDNJ release and see the full list of 2022 Edison Patent Award recipients, click here.