An estimated 6.2 million Americans age 65 and older are living with Alzheimer's disease, according to the Alzheimer's Association. Thanks to new Rutgers University‒Camden research, novel drug treatments may soon be on the way.
Rutgers‒Camden biologist Maria Solesio's lab is conducting vital research to learn more about the impaired cellular mechanisms in Alzheimer's and Parkinson's disease patients, which could result in life-changing treatments.
Solesio and her team focus on mitochondria, known as the power centers of cells, in neurons, the main cells of the human brain.
"We are trying to understand why mitochondria fail in neurodegeneration," said Solesio, an assistant professor of biology. "Mitochondria can get damaged at different levels in active diseases. If we do not understand these mechanisms, the search for drugs to prevent, delay or cure these pathologies is almost impossible."
By describing mechanisms that produce damage to mitochondria, Rutgers-Camden could help other researchers trained in drug discovery find pathways to counteract the damage that Solesio sees in her lab.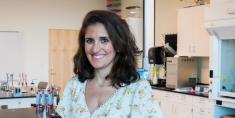 "Someone can say, 'Maybe by inhibiting this pathway, or by increasing this specific substance, we can control the disease,'" Solesio said.
Funded by more than $1 million in grants from the National Institutes of Health, the American Heart Association and the Rutgers–Camden Provost's Fund for Research, Solesio's research could improve the lives of millions of people around the world.
In addition to neurodegenerative diseases, the mitochondrial physiology research could have far-reaching effects. Solesio's lab could assist scholars studying other types of diseases, including diabetes and some types of cancer.
According to Solesio, recent research advances have allowed doctors and scientists to know much about neurodegenerative diseases today than they did just a few years ago. This includes research into the proteins that are involved in the onset of neurodegenerative diseases and the molecular pathways affected.
Although she is optimistic, Solesio cautioned that much more work is required before researchers can uncover the exact causes, characteristics and cures of these diseases.
"The brain has many particularities that other human systems do not have," Solesio said. "It is extremely hard to find a drug that binds to the cells in the brain. This all adds a layer of complexity to treating brain disorders."