Hub's first researcher training program starts Feb. 28
The new I-Corps Northeast Hub, of which Rutgers, The State University of New Jersey is a key partner, announced its first researcher training program and is now accepting applications.
The I-Corps program aims to propel discoveries made in university labs into everyday life. Through four sessions, beginning on February 28 and ending on March 23, researchers will be challenged to create successful startups and entrepreneurial ventures based on scientific and technological discoveries.
Rutgers has been offering the National Science Foundation (NSF) I-Corps program since 2018, providing training to 30 research teams a year working on STEM-based projects that fall within NSF research areas, including biological sciences, computer science, engineering, environmental research, math, physical sciences and social and behavioral sciences. In fact, the Rutgers I-Corps Site has trained more than 400 participants across all Rutgers campuses and chancellor units.
"This program has been so impactful – not only in helping to advance innovations and create a pathway toward grant and venture funding but in demonstrating that successful products must meet the needs of potential customers," said Dunbar Birnie, Rutgers Faculty Lead. "Participants also learn business terminology, gain new skills and expand their professional network."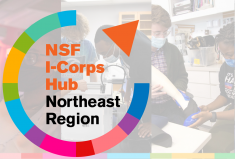 The I-Corps Hubs will incorporate lessons learned from previous I-Corps Site programs, such as the one offered at Rutgers. The goal, however, remains the same: to prepare researchers to form startups and transition their research into the public sphere where it can benefit everyday lives. According to the NSF website, the I-Corps Hubs will serve as the foundation of the National Innovation Network, a network of universities, NSF-funded researchers, entrepreneurs, local and regional entrepreneurial communities, and other federal agencies. The Hubs will work together to build a sustainable, diverse and inclusive innovation ecosystem throughout the U.S.
Rutgers faculty, staff and students on all campuses as well as alumni are eligible to apply for the Northeast Regional program, although participants do not need to belong to the Hub institutions to attend the four-week course. Selected teams will be eligible for up to $3,000 in funds, which can be used to conduct customer discovery research. Upon completion, the squads are eligible to apply to the NSF I-Corps Teams program, which includes a $50,000 grant for customer and industry discovery research.
Furthering the university's overall commitment to diversity, equity and inclusion (DEI), the Rutgers I-Corps program has been a leader in providing students from under-represented communities with opportunities to participate in innovation and entrepreneurship activities through its I-Corps Fellowship. Funded by a $100,000 DEI supplement from the NSF in 2020, more than 20 students have benefited from this unique experience. That fellowship is being piloted in the new hub. Students interested in learning more about or applying for a Rutgers I-Corps Fellowship can visit go.rutgers.edu/icorps-fellowship.
The I-Corps Northeast Hub sessions will be held on Feb. 28, March 2, March 9 and March 23 from 1:00 p.m. to 4:00 p.m. ET online, and applications are due on Jan. 31. Visit icorpsnortheasthub.org and register to apply to the program or to attend the upcoming online information session on Tuesday, Jan. 25, at 3 p.m. ET.