Rutgers University's Office for Research Unveils Newly Renovated Research Tower Housing Core Services
A newly renovated 30,000 sq. ft. state-of-the-art facility is now home to a handful of core services dedicated to helping Rutgers University researchers, students, and companies in New Jersey and the region conduct critical and potentially life-changing scientific research.
Located at the Robert Wood Johnson Medical School, the Research Tower Core Services facility is now home to an Animal Care Core Service, a Molecular Imaging Core Service, a Zebrafish Core Service, and a Comparative Medicine Resources Training facility. Core Services empower researchers to break new ground by offering specialized laboratories with state-of-the-art equipment, unique instrumentation, and shared services managed by scientists with the technical expertise and experience to help faculty.
Since the facility's start, two faculty members have already received grants from the National Institutes of Health (NIH) to conduct research.
President Jonathan Holloway, Prabhas Moghe, Executive Vice President for Academic Affairs and Chief Academic Officer at Rutgers University, Michael Zwick, Senior Vice President for Research at Rutgers University, Jeetendra Eswaraka, Associate Vice President for Rutgers Animal Care, and Vince Smeraglia, Executive Director of Core Services, along with members of university leadership, unveiled the three-year renovation.
"Three important entities at Rutgers—Institutional Planning & Operations (IP&O), and the Animal Care and Core Services units in the Office of Research—worked together to plan and create this important new space," said President Holloway. "Thanks to their efforts, we have a facility with a commitment to state-of-the-art equipment that will put artificial intelligence and machine learning to work to serve our researchers better and possibly lead to life-changing discoveries."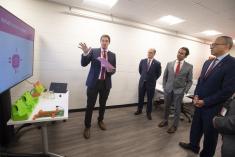 Dr. Moghe said he looks forward to "expanding Rutgers' research capacity to support undergraduate, graduate, and post-doctoral students by moving the needle on academic excellence." He spoke about how he believes research done in this facility can hopefully lead to technology that will more precisely diagnose diseases such as cancer, bettering patients' quality of life and providing them with more effective and timely treatment.
Zwick said that the research tower renovation directly aligns with the Office for Research's mission to support and sustain the research, scholarship and creative endeavors of all Rutgers faculty.
"This facility exemplifies that the Office for Research's Animal Care and Core Services teams can work together, and in partnership with university partners like IP&O, to develop cutting-edge spaces supporting faculty creative endeavors and innovation," Zwick said. "These same facilities also support the training and education of Rutgers students and can be used to provide cutting-edge services to Rutgers alums and New Jersey firms."
Eswaraka said the facility provides significant opportunities for animal research at Rutgers.  
"This facility is the first of its kind at Rutgers to have multiple specialized core services that researchers can use for advancing their research goals in one location," said Eswaraka.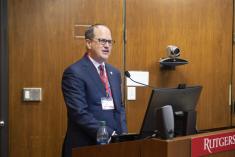 A training room was funded through corporate sponsorships and will be used to offer 3-credit courses to undergraduate students from the School of Arts and Sciences and the School of Environmental and Biological Sciences.
The Research Tower includes a fully equipped modern teaching classroom for undergraduates to receive hands-on learning. The flagship class started this fall with 16 students enrolled in the course. The Animal Care Core Service also employs and trains veterinary residents that provide veterinary care to animals within the facility and collaborate on research projects with faculty.
"This is the only animal facility on the Busch Campus with true redundancy in HVAC and electrical supply, which means it can maintain the temperature and humidity in the same range 24/7, 365 days a year, regardless of outside environmental conditions," said Eswaraka. "This redundancy allows us to control environmental variables, improving the rigor and reproducibility of the research with animal models."
"The opening of the Research Tower Core Services today will provide broad access to faculty and students, helping them advance their important research and scholarship programs," said Smeraglia.
To schedule a tour of the facility, contact Jeetendra Eswaraka or Vince Smeraglia.
The Rutgers University Animal Care training program is essential to the success of the overall research program by ensuring continued excellence in animal care and welfare. It ensures that those working with animals are knowledgeable in policies and proficient in procedures resulting in safe practices, responsible animal care, and reliable data. Rutgers supports the humane use of animals in scientifically necessary, ethically conducted studies.