Rutgers Researchers Shine at Philadelphia's 2023 Nucleate Activator Final Pitch Showcase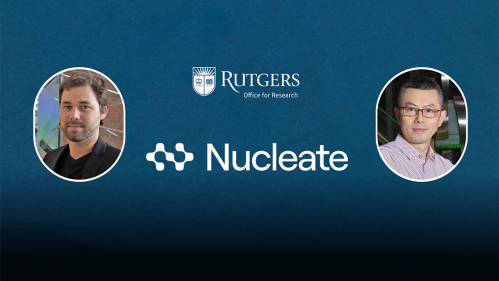 Exedo, led by Dr. Morgan James, and GenePod, led by Dr. Hao Lin, took first- and second-place at the event, respectively
A research team focusing on the creation of a new binge-eating disorder drug took the High Performance Grand Prize at the 2023 Philadelphia Nucleate Activator Program.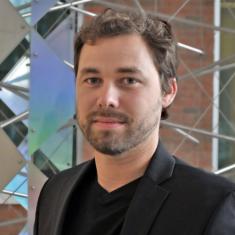 The Exedo team, led by assistant professor of psychiatry at Robert Wood Johnson Medical School and core member of the Brain Health Institute Morgan James, PhD, has been working on developing better treatments for binge eating disorder, a psychiatric illness and the most common eating disorder in the United States, impacting "almost 3% of the population, including all racial and ethnic groups," according to the Cleveland Clinic. Exedo means "I eat up, devour, consume" in Latin.
"We are thrilled to win this award, which is the culmination of a lot of hard work by our entire team," said James. "Receiving the Grand Prize from the Philly Nucleate Activator program has given us a range of different opportunities to explore as we look to further our research into binge eating disorder."
"Dr. James and his team are pursuing better treatment options for a health issue that impacts millions of Americans each year," said Deborah Perez Fernandez, PhD, MBA, CLP, executive director of Rutgers Technology Transfer, the department within the Office for Research that has supported Exedo through the Nucleate process. "We are thrilled that their research is being recognized for its importance and its potential to make a positive impact on the world."
According to the National Eating Disorders Association, binge eating disorder is "a severe, life-threatening, and treatable eating disorder characterized by recurrent episodes of eating large quantities of food (often very quickly and to the point of discomfort); a feeling of a loss of control during the binge; experiencing shame, distress or guilt afterwards; and not regularly using unhealthy compensatory measures (e.g., purging) to counter the binge eating."
For most of his career, James focused his research on drug addiction, looking at how drugs such as cocaine can change the user's brain. He and his team recognized that binge-like eating behavior can have a similar impact on the brain. He said there are "certain links and commonalities between uncontrolled food seeking and uncontrolled drug seeking. For some people, experimenting with drugs such as cocaine causes changes to their brains, which then results in them becoming unable to stop taking the drug. Similarly, it seems that for some people, certain foods or eating habits can trigger the same result in their brains that makes it difficult for them to stop."
Once James and his team decided to focus on developing treatments for binge-eating disorder, they approached the Office for Research's Innovation Ventures, which began the patent process and recommended the team participate in the I-Corps Northeast Hub program.
"First and foremost, the I-Corps program validated our hypotheses around questions like 'is there a market fit for what we're developing,'" said James. "We spoke to people with binge eating disorder and identified that in many cases they do not feel like they're satisfied with their current medication, and there is room for improvement in terms of medication options for them."
Exedo was able to use their experience with I-Corps to develop an effective business strategy, which the team then used to apply for and receive a grant from The HealthAdvance Fund®, an Office for Research program that aims to energize the innovation culture across all university campuses to speed up the translation of biomedical discoveries into commercially viable diagnostics, devices, therapeutics, and tools, thanks to a $4 million grant received under the National Institutes of Health (NIH) Research Evaluation And Commercialization Hub (REACH).
"The support we have received from the Office for Research, including I-Corps and the grant we received from The HealthAdvance Fund®, along with our experience with the Philly Nucleate program, has been foundational for us, and not just because of the money we've received to continue our research," said James. "Through these experiences, we have been partnered with amazing mentors who have industry experience in areas such as drug development and regulatory affairs, who then have networks that we can tap into if we need to."
Exedo's trajectory will continue with participation in the National I-Corps program, which will put the team through over 100 customer discovery interviews as they drill down on the market potential of their innovation. What James is most proud of, however, is the second honor his team received from the Philly Nucleate program: the Diversity, Equity and Inclusion Award.
"During the course of the I-Corps and Philly Nucleate programs, we developed a thorough Justice, Diversity, Equality, and Inclusion (JDEI) strategy, not just in terms of diversity on the board or within the staff, but with our potential customers," said James. "We found that with binge eating disorder, like so many other health conditions, access to treatments are so much less available to minorities. A major focus of ours going forward is how we can ensure that we increase access to everyone who needs it."
James also highlights two members of his team who also happen to be Rutgers students. Abanoub Armanious, who graduated in May, joined James' lab by way of the National Science Foundation's Lewis Stokes Alliance for Minority Participation, and Utsav Gyawali, PhD is a postdoc in the lab. According to James, both were instrumental in driving the research project forward.
Nucleate is a global, student-led organization that catalyzes the formation of life sciences companies. Activator is a six-month, equity-free cohort program designed for academic biotech founders. Participating teams refine their scientific discoveries into biotech venture theses and benefit from Nucleate's unparalleled mentor network, rigorous curriculum, funded fellowships, legal support, and highly subsidized perks. Activator culminates in a final pitch showcase before judges who are experts in this domain.
James and his team were not alone in receiving awards from the program, as a team of Rutgers, University of Pennsylvania, and Drexel University students led in part by Packaging Engineering Undergraduate Director and professor of mechanical & aerospace engineering in the School of Engineering Hao Lin, PhD, earned both the High Impact Culture Award and High Performance Award. Lin's team Genepod strives "to provide accessible nucleic-acid therapies through [its] innovative delivery platform, GeneDerm." In total, Rutgers teams won four of the five Activator Program awards.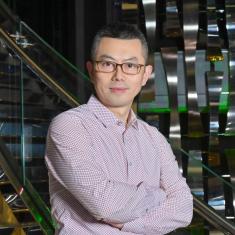 "Our mission is to provide accessible nucleic-acid vaccines and therapies through our innovative delivery platform and device, GeneDerm," said Lin. "The awarding of these two prizes is an acknowledgment of the creative and commercial potential of our technology and lends fuel and momentum to our adventure to translate this Rutgers innovation to benefit human health."
The Office for Research supports the research, scholarship, and creative endeavors of all Rutgers faculty. To learn more about what the office can do to help you advance your ideas, visit research.rutgers.edu.