Rutgers Researcher Nominated Chair of Microbiology Committee for NIH-RECOVER Investigator Consortium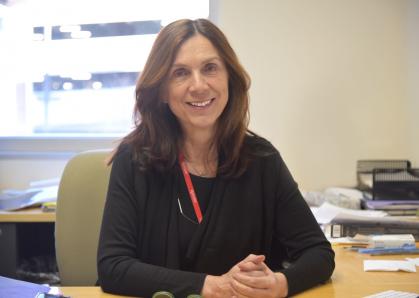 Rutgers public health researcher and expert in microbiology and immunology Maria Laura Gennaro, MD, MSc, has been nominated Inaugural Chair of the Microbiology Committee of the National Institutes of Health (NIH) Researching COVID to Enhance Recovery (RECOVER) program.
The RECOVER initiative is funded with $470 million by the NIH and it brings together scientists, clinicians, patients, and caregivers throughout the nation to learn why some people develop "Long COVID", and how they can recover from prolonged, new, or returning symptoms after the initial acute phase of infection.  The RECOVER initiative, which will involve approximately 40,000 adult and pediatric participants across the United States and abroad, launched in 2021 and will continue for four years. 
"Our committee includes world-class experts in all aspects of microbiology. I will help it shape the RECOVER protocols in important ways. I will also strive to be a conduit between RECOVER investigators and Rutgers microbiologists who work on problems relevant to the study of Long COVID", said Gennaro who is a professor of medicine at Rutgers New Jersey Medical School and professor of epidemiology at Rutgers School of Public Health.
The Microbiology Committee chaired by Gennaro will be one of six Pathobiology Multi-Disciplinary Task Force Committees coordinated by the RECOVER Clinical Science Core.
Rutgers participates in the pediatric RECOVER study as an enrollment hub led by Lawrence Kleinman, MD, MPH at Robert Wood Johnson Medical School (RWJMS). RWJMS is expected to receive $30 million as part of its partnership with the RECOVER program to study long-term and delayed impacts of COVID-19 in children.
Gennaro, who is also director of the New Jersey Alliance for Clinical and Translational Science (NJACTS) Biomarkers Core, plans to leverage the resources of NJACTS as part of her new role. The core has expertise in immunology, molecular and cellular biology and it supports COVID-19 research and non-oncological translational research.