Late Joachim Messing Receives Science and Technology Medal from Research & Development Council of New Jersey for His Groundbreaking Work as a Translational Scientist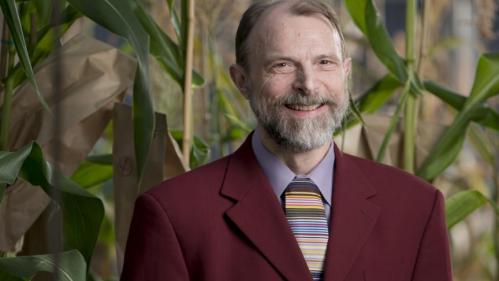 Special Award Presented at 41st Thomas Edison Patent Awards Virtual Ceremony & Reception
Internationally renowned Rutgers University scientist and former director of the Waksman Institute of Microbiology, Joachim Messing, was posthumously honored as this year's recipient of the Science and Technology Medal from the Research & Development Council of New Jersey for his groundbreaking work in shotgun DNA sequencing.
As a biochemist, Messing helped crack the genetic code of humans and plants revolutionizing and advancing medicine and agriculture while helping to fight hunger in the world. His shotgun sequencing technique – used for determining the sequence of entire chromosomes and entire genomes based on producing random fragments of DNA that are then assembled by computers that order fragments by finding overlapping ends – transformed agriculture, medicine and the basic sciences.  
"It is with deepest gratitude that we recognize the extraordinary accomplishments of Dr. Joachim Messing to the development of genomics and biotechnology, including food security and cancer therapies," said S. David Kimball, senior vice president for research at Rutgers. "By declining to patent his work, Jo allowed the free exchange of his revolutionary DNA sequencing tools to be spread freely and broadly among the scientific community."
The award was presented as part of the annual Edison Patent Awards Ceremony which commemorates New Jersey's most prolific inventor, Thomas Alva Edison, and celebrates the state's exceptional inventors. Established in 1980, the Science and Technology Medal recognizes those who have achieved outstanding and unparalleled advancement in the fields of science and technology as well as have extraordinary performance in bringing innovation from the laboratory to the marketplace. It is the highest honor that the Council gives to any researcher in the state.
Messing's techniques allowed a much faster decoding of genetic information than any prior method and enabled researchers to start tackling larger and more complex genomes. These techniques led to the creation of new lines of drought-tolerant plants with greater resistance to insects, herbicides, and environmental stressors. His approach also led to the development of technological tools for deciphering and engineering genomes, from bacteria to humans, and advancing the development of drugs such as erythropoietin (EPO) to treat cancer patients.
Among his recognitions, Joachim Messing was inducted as a member of the German Academy of Sciences Leopoldina in 2007. He also won the prestigious Wolf Prize in Agriculture in 2013 and the Promega Biotechnology Award of the American Society of Microbiology in 2014. Messing was a fellow of the American Association for the Advancement of Science and the American Academy of Microbiology, and a member of the National Academy of Sciences and the American Academy of Arts and Sciences.
Joachim Messing joined Rutgers in 1985. Through his work completed before the age of 45, he became the most frequently cited scientist in the 1980s. He died on September 13, 2019 but his intellectual legacy, generous spirit as a colleague, professor, and friend keep inspiring his peers, students, and the world.
The 41st Edison Patent Awards Ceremony, themed "Transforming Hope into Action," also honored 14 recipients from industry and academic researchers. Their patents range from the development of a biomaterial that helps to prevent surgical bleeding to a water-efficient, gravity-powered, siphon-inducing toilet product. 
Watch the video - Joachim Messing Honored Posthumously with Science and Technology Medal at 2020 Edison Patent Awards