Portions of this story are courtesy of Rutgers School of Environmental and Biological Sciences
 Fields of Devotion, the science-in-action film featuring Rutgers University plant biologists developing disease-resistant food crops, is bringing farmers and university researchers together to discuss ways to jointly tackle New Jersey's food production challenges. 
The film, directed by Rutgers School of Environmental and Biological Sciences (SEBS) science communications researcher Dena Seidel, will air on New Jersey PBS on August 19 at 5:00 p.m. and will be available for streaming on the platform Kanopy on Monday, August 21. Kanopy is free for university staff, faculty, and students, or anyone with a public library card. You can view the trailer for the film here.
Fields of Devotion highlights the process of identifying genes for disease resistance in commercial basil, a high-profit crop that small family farmers depend on, thanks to research led by SEBS Distinguished Professor Jim Simon, PhD and Extension Specialist Andy Wyenandt, PhD, who are featured in the documentary.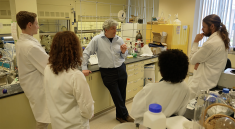 Simon and his team used innovative and traditional plant breeding technologies to identify particular genes in basil that they then used to breed disease- and climate-resistant varieties, including one called Rutgers Devotion DMR (downy mildew resistant), which was bred to withstand the deadly pathogen BDM (basil downy mildew). In order to combat future strains of downy mildew, Rutgers plant biologists continue their basil breeding to increase the plants' resiliency, thanks in part to the work of graduate students and many other faculty and the introduction of CRISPR-gene editing technology to the process.
Rutgers' Office for Research, whose mission is to support the research, mission, and creative endeavors of all Rutgers faculty, collaborated with Simon by helping him license the novel varieties of basil.
"Conducting science is incredibly complex, and Dena's model of documenting our research over time and then shaping it into a science-in-action story to communicate what we do in a way that is relatable to broader audiences is phenomenal," said Simon. "Fields of Devotion is having an incredible impact in helping scientists and farmers listen to each other and imagine ways of working together to strengthen our food system."
"Professor Simon is a fantastic example of 'Rutgers excellence,'" said Deborah Perez Fernandez, executive director of Rutgers Technology Transfer. "He has been at the forefront of important agricultural work by developing basil varieties that can survive extreme weather and devastating diseases and helping to re-grow the New Jersey basil industry."
"NJ PBS is committed to presenting local stories about and for New Jersey," said NJ PBS Vice President and General Manager, Joe Lee. "Fields of Devotion is at home on our network as it spotlights the agricultural industry that makes this the Garden State, how innovation by our state university keeps it growing, and how its research benefits the entire country."
Fields of Devotion was first screened to a full house at the New Jersey Agriculture Convention in March 2023. Augustine Wuillermin, a vegetable farmer from Atlantic County, attended the screening.   
"I feel that Fields of Devotion represents me. This is a film all growers should see, and the public should see, to better understand where our food comes from. It really needs to be shown to our political leaders too, so they see the challenges we farmers face and all the hard work done at the university and experiment station (New Jersey Agricultural Experiment Station) to help solve agriculture problems," said Wuillermin. 
Bill Hlubik is department head of Rutgers Cooperative Extension of Middlesex County. He leads the Rutgers Beginner Farmer Training Program and sees the film as an invaluable teaching tool.
"Fields of Devotion provides a powerful visual tool that allows farmers and researchers to learn from each other and imagine new ways to work together. As an extension agent, it is my intention to bring Fields of Devotion into the community to share it with our agriculture leaders and beginning farmers who are facing many challenges in today's changing climate," said Hlubik. 
So far, Fields of Devotion has been accepted into nine film festivals. It has received positive reviews, winning three film festival awards, to date. 
Executive Director of the Northeast Organic Farming Association of New Jersey, Devin Cornia, is among those who see the value of this kind of compelling, in-depth storytelling about science and research in a relatable way.  
"Fields of Devotion is a captivating and comprehensive look into the hard work of plant breeding, which is costly, often spans decades, and is relatively out of view of farmers and the public," said Cornia. 
"This film illuminates the importance and impact of plant breeding and sows seeds of gratitude for the researchers and scientists keeping our food supply resilient in an ever-changing, invariably challenging landscape," he added. 
The Hunterdon County Board of Agriculture, The Nature Conservancy, and the American Society for Horticultural Science (ASHS) all requested in-house screenings of the 30-minute film as part of convening on how agricultural science can be of service to food producers in the midst of climate change. Viewers at the ASHS showing rated the film 5/5.
After watching Fields of Devotion, Rutgers alumna Penny Pray (DC'70) says she was so proud of Rutgers scientist Jim Simon and his team, and their years of hard work seeking a "cure to downy mildew affecting the very important basil production in New Jersey and then making a documentary to show all the steps."  
Penny and her husband, Don, were so moved after viewing Fields of Devotion that they donated funds for a science-in-action film screening for alumni audiences in the fall.
It is definitely something the whole Rutgers community and our hundreds of thousands of alumni should know about," she added.