How Leaders in Academia, Industry and Students Came Together to Fill the PPE Gap on the COVID-19 Frontlines
While 'necessity is the mother of invention,' the journey to an inspiring and extraordinary success could be enriched through collaboration and partnerships. This can be attested by Rutgers University and professional services company Accenture, which joined efforts towards the same goal: to solve the necessity of face shields and other personal protection equipment (PPE) for healthcare workers and researchers on the frontlines of the COVID-19 pandemic.
It started with that urgent need and an idea from Joseph Hanna, acute care surgeon and assistant professor at Robert Wood Johnson University Hospital, continued with a combination of passion, expertise and leadership, and has evolved into an organic 'operation bootstrap.' Almost serendipitously, the academia, the corporate world and the community conceived a business model similar to a startup. And now, the operation called RU 3D PPE project, has become an additional force fighting the spread of the deadly virus. 
"Fifteen days it took, to go from an initial flurry of emails to the production of 180 sanitized and ready to use laser-cut face shields and 3D printed headbands through a network of 40 3D printers in facilities led by Rutgers Makerspace," said Sacha Patera, associate vice president for Rutgers Corporate Engagement Center.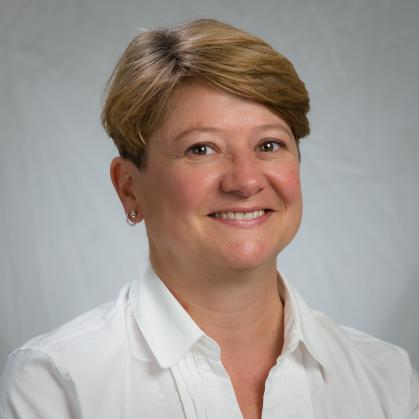 "Accenture reached out through an alumna to ask how they could help. Within days they had assigned a person to help organize the group and within a week we had around 50 people on board with ten different subgroups: project management, clinical, innovation, technical, 3D printer operators, distribution, procurement, external relations, legal, and student engagement. Those are almost all of the parts that a company would have," added Patera.
Without much noise but with plenty of organization, strategy and focus, four weeks into the project the group produced more than 1,000 sanitized and ready-to-use face shields and 20 intubation protection boxes, the latter through a team of biomedical engineers. 
Now, seven weeks into the journey, the team has produced more than 1,000 face shields that can be sanitized for re-use and has grown to more than 70 members from Rutgers' Office of Research and Economic Development, School of Engineering, School of Arts and Sciences, School of Environmental and Biological Sciences, Robert Wood Johnson Medical School (RWJMS) and New Jersey Medical School, RWJMS COVID-19 Innovation Student Task Force, staff from Rutgers Makerspaces in Rutgers-New Brunswick, Rutgers–Newark, Rutgers–Camden, and Accenture, among others.
"At the same time that the RU 3D PPE project was getting underway, Accenture's New York Innovation Hub team was developing innovative solutions to challenges related to COVID-19, including the lack of PPE for healthcare workers," said Jenna LaPietra, New York Metro Local Market Development Lead at Accenture, and graduate alumna from both Rutgers Livingston College and the Edward J. Bloustein School of Planning and Public Policy. "The timing worked perfectly for our team to immediately begin helping Rutgers; we're proud to support the university and the frontline workers in our communities."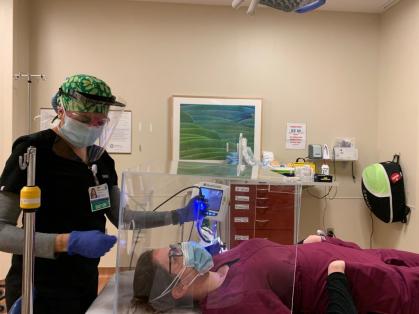 As soon as LaPietra connected with Patera, Kirtan Gandhi, a senior manager in Accenture's education practice, was assigned to help orchestrate the RU 3D PPE project. And even though Gandhi is more than 800 miles away in Chicago, his project management experience provided the group with the insight to function like a well-oiled machine. 
"This project required the Rutgers team to think and act as if they were a manufacturing company, not as clinicians or engineers," said Gandhi. "The teams collaborated and utilized their respective strengths to create a mini factory and end-to-end supply chain that included research and development, design, production and distribution." 
Gandhi mapped out the operation to help identify challenges in different areas like logistics. After the products were done, they needed to be assembled and then sanitized. "A significant amount of the assembly work was performed by the Rutgers community, and it was inspiring to see volunteers rally around the cause," added Gandhi.  
The face shields and intubation protection boxes are now being used in Robert Wood Johnson University Hospital in New Brunswick, RWJBarnabas Health, and in University Hospital in Newark – New Jersey's only public hospital. 
Although the RU 3D PPE project was supposed to end by mid-May, according to Patera, its success has led to a plan to maintain the production with volunteer medical, business and engineering school students together with Accenture, who will train them. Vicente Gracias, senior vice chancellor for clinical affairs from Rutgers Global Health Institute and university leadership had also tasked the student group to produce and innovate PPE and medical device parts for the Rutgers frontline healthcare workers and its broader community. 
"These medical students were already given the challenge to work on medical device innovation with faculty member Paul Weber, director for the Distinction in Medical Innovation and Entrepreneurship Program (DiMIE)," added Patera. "I think that as long as we are living under COVID-19 pandemic, this group will have something to do. It feels wonderful to have been able to help this group off the ground. It is fascinating to watch the very rapid evolution of this group from individual, to teams, to a production machine. This is what everybody is stunned about. The lessons are huge in all directions."