CD147-CAR-NK Immunotherapy for Hepatocellular Carcinoma Treatment
Inventor(s):  Dongfang Liu
Awarded:  October 2020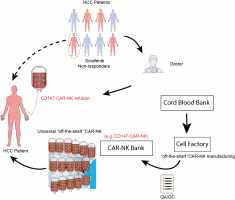 Summary:  Liver cancer is the second most common cause of cancer-related death worldwide. Primary liver cancer includes hepatocellular carcinoma (HCC), intrahepatic cholangiocarcinoma (iCCA), fibrolamellar carcinoma, and hepatoblastoma. HCC and iCCA are the most common primary liver cancers, which account for more than 99% of primary liver cancer cases. HCC alone (nearly 800,000 new cases per year) accounts for nearly 90% of all cases of primary liver cancer. HCC is typically diagnosed late in its course, with a median survival following diagnosis of 6-20 months. In the US, less than 50% of patients survive more than two years and less than 15% of patients survive more than five years. 
Currently, patients have limited options for HCC treatment. Sorafenib (CheckMate-040, a multi-kinase inhibitor for advanced HCC patients) is a first-line standard systemic agent for HCC; however, it does not halt disease progression, and only extends survival of patients by a median of 12 weeks. Sorafenib also comes with considerable toxicity, as well as patients developing resistance to the drug. As a repurposed drug (approved originally for metastatic differentiated thyroid cancer), it is not a mechanism-based therapy3. As a second-line treatment, PD-1 blockade nivolumab has also been approved by the FDA. Clinical trials as a first-line treatment for HCC are ongoing. Available data suggests less than 20% of patients respond to checkpoint inhibitors. Neurotoxicity is also a concern. 
On the other hand, Chimeric antigen receptor (CAR)-modified T cell therapy has become a promising immunotherapeutic strategy for the treatment of various blood cancers. However, despite recent advances in CAR-modified T cell immunotherapy, costs and toxicity hinder its widespread use. For CAR-T immunotherapy, autologous T cells have to be modified to avoid graft vs host disease (GVHT). However, it is challenging to produce autologous CAR-T cells from patients with high-risk solid tumors since these patients have undergone several lines of chemotherapies. Further, CAR-T cells face additional challenges during the targeting of solid tumors (i.e. maintaining durable proliferation and persistence in the tumor microenvironment). An additional challenge for CAR-mediated immunotherapy for liver cancer is to find an effective target.
As a solution to these unmet needs, the team is developing a cell-based immunotherapy cancer "living drug" by re-engineering Natural Killer (NK) cells, both autologous and allogeneic immune cells, to hone-in on a specific HCC cancer antigen, CD147. The therapeutic approach will utilize a medical infusion bag, similar to Yescarta® and Kymriah®, which are FDA-approved CAR-T products for Lymphoblastic Leukemia and B-cell Non-Hodgkin Lymphoma. The primary and initial target market will be patients with relapsed or refractory HCC.
After clinical infusion, the CD147-CAR-modified cells will target CD147 expressing cancer cells and eliminate them in vivo. Cytokines will also be released in the process, recruiting additional immune cells to the tumor area. These products will slow down the HCC disease progress and improve the life quality of HCC patients. The technology also has the potential to slow down other solid tumors with CD147 upregulation on the tumor surface (lung, breast, melanoma, pancreatic, and many others).  
Market Applications: 
Primary and initial target will be patients with relapsed or refractory HCC, which are those who have not responded to first-line standard treatment.
CD147-CAR can be used for other solid tumors, wherein the subject has HCC, neuroblastoma, multiple myeloma, and breast, pancreatic, colorectal, lung, sarcoma, or other cancers.