Rutgers Office for Research Associate Vice President for Rutgers Animal Care Jeetendra Eswaraka Elected to ECLAM Council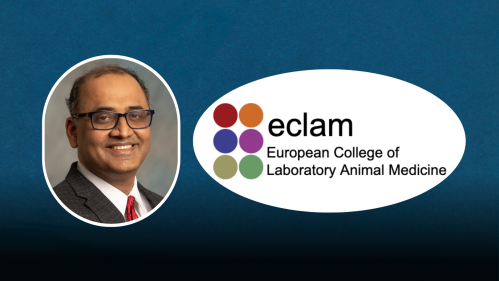 The Office for Research is excited to announce that Jeetendra Eswaraka, DVM, PhD, DACLAM, Associate Vice President for Rutgers University Animal Care (RUAC) has been elected to serve on the Council of the European College of Laboratory Animal Medicine (ECLAM), one of the 27 specialist colleges recognized by the European Board of Veterinary Specializations.
Eswaraka has over 18 years of leadership experience in the laboratory animal field and is passionate about the field of Lab Animal Medicine. Eswaraka serves on the board of two organizations: the New Jersey Association for Bio-medical Research (NJABR) and the New Jersey branch of the Association for Laboratory Animal Science (NJALAS). Additionally, Eswaraka is also an ad-hoc consultant for the Association for Assessment and Accreditation of Laboratory Animal Care International (AAALACi) involved with the accreditation of lab animal facilities across the country. The recent election of Dr. Eswaraka to the Council of ECLAM continues the successes and representation of Rutgers University Animal Care abroad.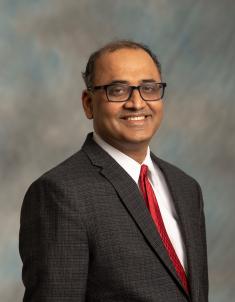 "ECLAM is the European Equivalent of the American College of Lab Animal Medicine. The Mission of ECLAM is to set standards for the post-graduate training that is required for Laboratory Animal Veterinary Practitioners, develop and supervise continuing education programs, and periodically review standards for recertification of ECLAM Diplomates," said Eswaraka. "Rutgers having representation on this council means that we can train veterinary professionals from Europe through our program, increase the prestige of Rutgers outside the continental United States, and help attract top talent to our animal care programs."
The recent ECLAM Council election is one of many highlights stemming from years of transformational work being done at RUAC under Eswaraka and his team. As of 2022, RUAC now has a unified animal care program to serve both Newark and New Brunswick/Piscataway, modern infrastructure and technologies for cutting-edge research, digital technologies to efficiently serve researchers while increasing animal welfare, a dedicated training group for both RUAC and external research staff, and a Lab Animal Residency Program in partnership with Princeton University and Bristol Myers Squibb. The impact of the ECLAM Council election continues the trend of improvements at Rutgers University Animal Care.
To learn more about the European College of Laboratory Animal Medicine, please visit https://eclam.eu/.