Rutgers University Hosts Bio-Manufacturing Innovation Summit, Bringing Key Innovators to New Jersey to Share Insights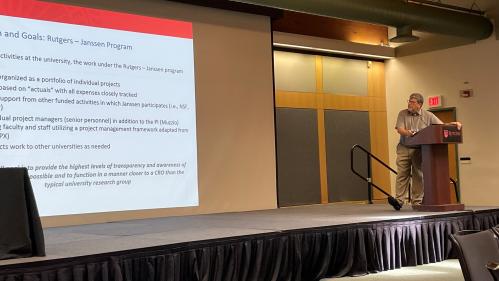 Key stakeholder groups, transformational technologies, pioneering companies, key opinion leaders, industry partners, and investors discuss the role of academic-industry partnerships in developing pharmaceuticals 
Participants of the Bio-Manufacturing Innovation Summit engaged with leading bio-manufacturing innovators, leading start-ups, growth companies, government, investors, industry, leading innovation stakeholders and key opinion leaders at the conference held on July 7 and 8 at Rutgers University's Busch Campus Center. 
The day's presentations focused on the importance of research partnerships in designing cures that are effective, safe, can better treat patients, and can be brought to market and production faster, when early stage and large companies develop medicine with advanced biomanufacturing technologies in mind.
Two university leaders from Rutgers-New Brunswick's School of Engineering and experts in materials modeling and simulations as well as the advanced manufacturing of pharmaceuticals, Alberto Cuitiño, PhD, and Fernando Muzzio, PhD, set the stage for the conference, which was attended by more than 120 participants.
Cuitiño, interim dean of Rutgers School of Engineering, gave opening remarks at the conference about how leading research at the School of Engineering is paving the way for more productive and cost-effective methods of manufacturing needed medicines during a time of strained supply chains. 
Muzzio, distinguished professor of chemical and biochemical engineering, and Vincent Smeraglia, executive director of core services at Rutgers University's Office for Research, spoke during a panel discussion about the importance of academic-industry partnerships in the cutting-edge development of advanced manufacturing of pharmaceuticals. Muzzio, a global leader in continuous biomanufacturing, also presented a fireside chat with leadership from Janssen Pharmaceutical Companies of Johnson and Johnson to discuss how, in partnership with the company, Rutgers generated the very first U.S. Food and Drug Administration-approved continuously manufactured medicine for HIV. 
Three biomedical researchers from Rutgers who have developed new medical technologies with the use of advanced biomanufacturing also presented at the conference, describing their novel and innovative therapies. 
Christian Hinrichs, MD, chief of Cancer Immunotherapy and co-director of the Duncan and Nancy MacMillan Cancer Immunology and Metabolism Center of Excellence at Rutgers Cancer Institute of New Jersey, spoke about the development of innovative, cutting-edge cellular therapy to treat various types of cancer. Chimeric antigen receptor (CAR) T-Cell therapy uses genetically modified cells to target and kill cancer cells in the body. 
Renata Pasqualini, PhD, resident member of Rutgers Cancer Institute and professor and founding chief of the Division of Cancer Biology, Department of Radiation Oncology at Rutgers New Jersey Medical School, and chief scientific officer at Phage Nova Bio, Inc., spoke about her work with gene therapy which precisely targets cancer cells while sparing normal cells and tissues. 
Donfang Liu, PhD, associate professor at Rutgers New Jersey Medical School and chief science officer at NAKI Therapeutics, presented his work using CAR-Natural Killer (NK), another novel approach that re-engineers cells to target specific cancer cell markers effectively and safely. 
The Bio-Manufacturing Innovation Summit and partnering forum was co-organized by Lonza Group AG, Broadreach Global and Rutgers University's Office for Research, with support from NIIMBL - the National Institute for Innovation in Manufacturing Biopharmaceuticals - and global innovation partners MBHB LLC, Patent Docs, Mazards, and the BiotechGate Partnering Platform.
Rutgers will host the conference next year on July 13th and 14th, 2023 at Weeks Hall.