Yingying (Jennifer) Chen, a professor in the Department of Electrical and Computer Engineering and an associate director of Rutgers' Wireless Information Network Laboratory (WINLAB), has been named a fellow of the National Academy of Inventors' (NAI) class of 2021. This is the highest professional distinction conferred solely to academic inventors.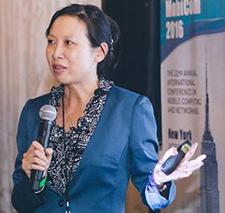 "I am honored to be elected an NAI fellow," says Chen. "While I enjoy my research work, I always hope it can make direct contributions to society.  This is the main reason that I'm working in the systems research area. I'm glad to see that my work can impact our daily lives in terms of both working and living. It is a great encouragement for me to keep the momentum moving forward."
A Breakthrough in Wellbeing Monitoring
According to Chen, who holds three patents related to mobile computing and mobile security that have been licensed to industry and commercialized, many of her new research findings and results in smart healthcare, IoT, mobile sensing and computing, deep learning on mobile devices, security in AI systems, and cyber security also have the potential to be patented and licensed to industry.
"My most significant invention is 'Device-free Activity Identification Using Fine-grained Wi-Fi Signatures,' Chen explains. "It addresses a fast-growing area in need of performing important location-oriented daily activity monitoring for elder care, well-being management, vital signs monitoring, and smart homes."
As the first invention to build a Wi-Fi enabled contactless activity identification and tracking framework, it has led to breakthroughs in continuous wellbeing monitoring, activity recognition, and gesture identification without needing additional hardware, wearables, or cameras.
"The related patent has been licensed to Aerial Technologies – the pioneer in wireless motion analytics powered by artificial intelligence – and commercialized into products," she reports.
A Game-Changer for Public Safety
Chen's patent for "In-Baggage Object Detection Using Commodity Wi-Fi" has been licensed to Bullrun Capital, which has funded more than 18 projects since 2008.
Chen describes the invention as a "game-changer for public safety since it can detect hidden dangerous objects, such as weapons, explosives, and liquids, inside luggage by using low-cost wireless signals as opposed to the traditional x-ray and CT-based platforms."
A World-Class Engineer
A noted thought-leader and Institute of Electrical and Electronics Engineers (IEEE) fellow, Chen has published three books, four book chapters, and more than 200 journal and conference articles.
As a member of the 2021 NAI Fellow class, Chen joins a distinguished and diverse group of inventors hailing from 116 research universities and governmental and non-profit research institutes from around the world. Collectively, the class holds more than 4,800 issued U.S. patents and includes 33 members of the National Academies of Sciences, Engineering, and Medicine, and three Nobel Laureates.
Chen and other members of the NIA Fellows Class of 2021 will be officially inducted at the Fellows Induction Ceremony at the 11th Annual Meeting of the NIA in Phoenix, Arizona in June.
Originally published by Rutgers School of Engineering