Rutgers Inventors Dunn, Balint and Gatt Receive 2021 Edison Patent Award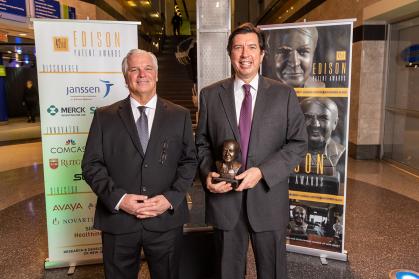 Researchers receive award from R&D Council of New Jersey for creation of tissue-engineered meniscus implant
By Marisol Seda and Trevor Rutledge-Leverenz
A novel medical device that works as an absorbable implant for meniscal reconstruction, invented by researchers at Rutgers, The State University of New Jersey, received the 2021 Thomas Edison Patent Award in the Biotechnology category. The tissue-engineered implant treats meniscal tears to lessen or even entirely rid the need for a total knee replacement surgery.
Inventors Michael G. Dunn, PhD, Charles J. Gatt, Jr., MD, and Eric A. Balint, PhD from Robert Wood Johnson Medical School (RWJMS) Orthopaedic Research Laboratory received the patent award for "Bioresorbable Tissue Engineered Fibrocartilage Replacement with Three-Dimensional Matrix of Fibers" patent (U.S. 9,178,129). Their absorbable implant recreates the anatomy and fiber geometry of the meniscus, reduces stress on knee cartilage and induces the formation of functional neo-meniscus tissue, restoring knee mobility and potentially preventing the development of osteoarthritis after severe meniscus injury.
"We as a team are incredibly honored to receive this award," said Dunn, founding director of the Orthopaedic Research Laboratory, associate professor of orthopaedic surgery and graduate faculty member for the Program in Biomedical Engineering at RWJMS. "Thomas Edison is among the greatest minds of that era, maybe any era, so to be mentioned in the same breath as him is an incredible honor.
"Our innovation allows the body to heal itself while giving the knee the strength to function normally throughout the healing process," explained Dunn. "The whole concept is to regrow the meniscus by allowing the body's cells to grow into the implant and eventually replace it with new tissue. The strategy is to surgically remove an injured meniscus and replace it with MeniscoFix, our patented device, a biocompatible material made of freeze-dried collagen reinforced by a network of synthetic polymer fibers. This absorbable implant slowly degrades and loses strength, while it induces the body to grow new cells and neo-meniscus tissue, which gains strength over time."
Through efforts led by the Innovation Ventures team within Rutgers' Office for Research, the technology has been exclusively licensed by NovoPedics, Inc. which is currently performing preclinical studies on the patented device, trademarked as MeniscoFixTM.
According to the Journal of Orthopaedic and Sports Physical Therapy, the most frequent orthopaedical surgical procedure in the United States is an arthroscopic partial meniscectomy provoked by a meniscal tear. This innovation helps in restoring knee mobility even while healing, potentially preventing development of osteoarthritis after severe meniscus injury. Dunn, Gatt and Balint's technology can also lower health care costs.
"Winning the Edison Patent Award is a tremendous honor for me personally as well as for The Orthopaedic Research Laboratory at Rutgers Robert Wood Johnson Medical School," said Gatt, a board-certified orthopaedic surgeon, associate professor, and residency director of Orthopaedic Surgery at RWJMS. "In our lab, we all believe tissue engineering will be an integral part of future orthopaedic patient care. The recognition of our work in developing MeniscoFix is validation of our efforts and serves as motivation to complete our work and benefit the many patients who sustain meniscus injuries and arthritis."
"Thomas Edison is a prolific inventor and tremendously influenced life as we know it and being honored with an award in his namesake is a testament to the life-changing work of Drs. Dunn, Gatt, and Balint," said Michael Zwick, senior vice president for research at Rutgers. "Rutgers is immensely proud of their novel implantable medical device that could improve the lives of thousands of patients. Our team of inventors fulfills Rutgers' mission as an academic, health and research powerhouse."       
"Drs. Dunn, Gatt, and Balint's success highlights the importance of our focus on research as a university and the support provided by the Innovation Ventures team within the Office for Research to our researchers and inventors," said Tatiana Litvin-Vechnyak, associate vice president of Innovation Ventures at Rutgers. "The Innovation Ventures team is incredibly proud and committed to continue playing a role in providing expertise to our innovators and to accelerate their inventions." 
The Edison Patent Awards, named for Thomas Edison and now in their 42nd year, are presented annually by the Research & Development (R&D) Council of New Jersey to recognize and highlight the "broad array of research conducted in the state." A team of R&D Council researchers selects the winners after evaluating nominated patents "based on the significance of the problem addressed, its utility/socioeconomic value, [and] novelty and commercial impact." The 2021 event was held on November 18th at Liberty Science Center in Jersey City.
Other 2021 winners included Avaya, BASF, Celularity, Ethicon, Inc. – a Johnson & Johnson Company, ExxonMobil Research & Engineering Company, Merck, Nokia Bell Labs, Princeton University, Siemens Healthineers, Siemens Technology, Stevens Institute of Technology, and Stryker's Joint Replacement division.
42nd Annual Edison Patent Award Video Tribute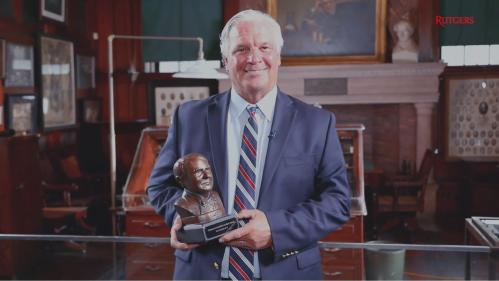 Edison Patent Award 2021 - Michael Dunn, PhD, Rutgers University