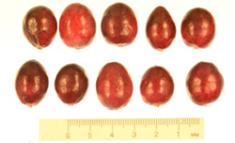 Variety: Vasanna™
Principal Investigator(s): Dr. Nicholi Vorsa, Jennifer Johnson-Cicalese
A cranberry variety suited for the processed cranberry market, having a high crop yield potential, a midseason ripening period, and a large berry.
Vasanna™ resulted from a 1999 cross between Crimson Queen® and #35 (unpatented variety). Vasanna™ was selected in 2007 from amongst 138 progeny of this cross due to its consistent high yields, trialed further in multiple grower locations, then introduced in 2019.
Dr. Vorsa named Vasanna™, in memory of his parents, Vas and Anna. Immigrants from Belarus, they had few resources but encouraged him and his brother to finish their doctorate degrees. "They saw it as a road to success in this country" said Dr. Vorsa.
Repeated yields of over 500 barrels/acre (British Columbia & Wisconsin)
Large fruit with variable shape, widely ovate to slightly pyriform 
Moderate Tacy
Low fruit rot
Performs well in most areas, but particularly adapted to 'peat' organic soils and moderate oceanic climate such as Oregon, Washington and British Columbia
U.S. Plant Patent PP32,896 issued March 16, 2021
Cranberry variety named 'CNJ99-9-25'
Canadian Plant Breeders' Rights Certificate #6711, granted December 20, 2022
All trademarks are registered and continue to be enforced
Rutgers patented new Cranberry varieties are available to commercial cranberry growers in the U.S. and Canada, under license from Rutgers University.
To request a license agreement for our Rutgers cranberry varieties, please use the form below.
RU Grower Online Reporting App
Welcome to the Rutgers University Grower Online Reporting App!
To make it easier for our licensees to submit Annual Reports, Rutgers has developed this user-friendly online platform which will enable you to submit annual reports electronically. Once you create your account,  your reports will be available for easy updates in future years. As always, the information provided is kept confidential.
Cost-Benefit Analysis Tool
The Cost-Benefit Analysis Tool was developed to assist cranberry growers in making informed economic decisions on variety selection for field renovation or purchase.