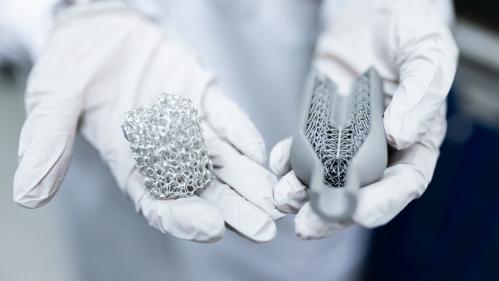 When you disclose an invention to Innovation Ventures, it begins the process that could result in the commercialization of your technology. The invention disclosure is filed with Innovation Ventures by completing the Notice of Invention Form. The Notice of Invention is a confidential document that formally begins the technology commercialization process. Once the inventor submits this form to Innovation Ventures, a licensing manager will be assigned to the technology and an evaluation of the technology will begin.

Invention disclosures should be submitted when you feel you have discovered something with possible commercial value. Disclosing your invention to Innovation Ventures prior to any public disclosure is essential for patent protection. If an invention is disclosed to Innovation Ventures after it has been publicly disseminated in an enabling manner, then patent rights outside of the United States are not available.  Furthermore, if a patent application is not filed within one year of a public disclosure, U.S. rights can be lost as well.  In order to prevent this from occurring, we recommend early disclosure to Innovation Ventures, before any public disclosure. Click here to learn more about what is or is not a public disclosure.  

The US now has a "first inventor to file" system. Under the American Invents Act (AIA), any evidence showing that an invention was in public use, on sale, or otherwise available to the public can be used as prior art, even if that evidence relates to events that took place outside the U.S. 

Please inform Innovation Ventures of any imminent or prior presentation, conference, lecture, poster, abstract, website description, press release, research proposal submission, thesis, publication or other public presentation concerning your invention.  Given sufficient notice, we will work with you to obtain the patent protection you need without delaying publication. We advise filing a fully enabled patent application prior to any public disclosure to ensure maximum patent protection and commercial value of your invention. Please be aware that Innovation Ventures will never prevent you from publishing or presenting your research.

A public disclosure is a non-confidential communication from the inventor to the public of the existence of an invention. The disclosure must also be "enabling", meaning that it must give enough information to someone "of ordinary skill in the art" to practice the invention without undue experimentation. While not technically a "publication", other events that have a similar effect include the sale of an embodiment of an invention, an offer to sell, and the public use of an invention.

Examples of public disclosure may include:

Printed publications: journal articles, books, newspapers, magazines, theses, online articles, conference abstracts, oral and poster presentations, thesis defense presentations, written dissertations.

Email correspondence: Providing non-confidential information to individuals outside of the University by email, letters or other correspondence may constitute public disclosure.

Grant proposals:  Depending on the circumstances, a grant application may be considered a public disclosure that can limit future patent rights. A grant proposal is not considered a public disclosure until it is available to the public for review. Most grant applications are confidential and are not considered public disclosures, but others are made public through inclusion in a file system available for public review. Grant proposals to federal agencies are deemed publications as they are accessible under Freedom of Information Laws. Furthermore, federal grant applications constitute publications when a notice of award is issued, which may limit or destroy foreign patent rights.  Some funding agencies permit portions of a grant application to be specifically marked as "Confidential." To protect patentable details revealed in a grant proposal, the first page of the proposal should carry the caption: "CONFIDENTIAL, THIS PROPOSAL CONTAINS POSSIBLY PATENTABLE SUBJECT MATTER ON PAGES XX-XX." List only those pages containing technical details and mark the top of each page containing confidential information as "CONFIDENTIAL".

Oral disclosures: Oral disclosures are not always so clear. For example, if copies of presentation are distributed at a presentation in which an invention is disclosed, this is a public disclosure. However, even if there are no handouts, an audience member taking notes on the invention would constitute a public disclosure. Therefore, consider that conference presentations, departmental seminars, and thesis defense all present opportunities for public disclosure.

The licensing managers of Innovation Ventures begin a review of the invention disclosure known as the Technology Assessment. During this time, the licensing manager will conduct patent searches and analyze the market and competing technologies to determine the invention's commercialization potential. At the end of this process, Innovation Ventures will provide the inventor a Technology Assessment document detailing licensing manager's findings.

Once the patent application is filed, the licensing team assembles a non-confidential summary and begins marketing the technology to potential licensees. Licensing managers use databases and industry contacts in order to identify the most appropriate people at candidate companies who have the expertise, resources and business networks to bring the technology to market.

All Rutgers personnel (including faculty, staff, visiting professors, visiting scientists, etc.) are subject to the University Patent Policy. By signing the Faculty Employment Agreement, the faculty employee agrees to the terms of the University Patent Policy, including its requirement that he or she disclose and assign inventions or discoveries to the University. In exchange, the Innovation Ventures team markets the technology, manages and licenses the patent on your behalf, provides advice on business plans, makes connections with investors and distributes royalties and proceeds from license agreements to inventors and other Rutgers units per the patent policy.

Innovation Ventures can assist creators in clarifying ownership, leverage our experience and contacts and distribute the revenue to the creators and their organizations.

Yes, Innovation Ventures provides support for open-source licenses and hybrid open-source and commercial-style licenses.

A list of Rutgers policies, including those for patents, copyrights, codes of ethics and others, can be found here. If you cannot find what you are looking for, please contact Innovation Ventures for assistance.
FAQs for Business and Industry Partners
You can access world-class research, facilities and equipment to drive innovation and bring your ideas to life. It's best to connect with our Core Services team to help you navigate the vastness of our research enterprise.

In general, universities are not the most ideal places to keep information confidential, as one of the main duties of researchers is to publish. To the extent possible, your company should file for a patent before disclosing things to Rutgers. Under limited circumstances, information can also be protected by confidentiality agreements if these are executed before the information is exchanged. Contact the Innovation Ventures team to start.

These vary greatly from technology to technology, but Rutgers will not ask for terms which make it economically unfeasible for your company to market a product. Rutgers licenses are usually considered fair and equitable by our partnering companies and licensees. Typical licensing terms will include reimbursement of patent costs, license issue and maintenance fees, royalties on product sales and development milestones. Under limited circumstances, we will also accept equity in lieu of other payments. Rutgers requires due diligence provisions and indemnification for products sold in every license executed. If you have any questions, or would like to obtain a draft license agreement, contact Innovation Ventures.

Rutgers' end goal is for the technology to be commercialized. To that end, the licensee should have a business plan – both short and long term – which demonstrates knowledge in the field and of the proposed marketplace. Financial and other resources are also critical to the success of the technology.

If you are looking for a license to use the Rutgers University Trademarks (i.e. Scarlet Knights), contact the Trademark Licensing Office in the University Communications and Marketing division. 

Contact the Research Contract Services team, which manages material transfer agreements at Rutgers to discuss details of the transfer.