Gnotobiotic Core Resources
Vinyl Coy Anaerobic Chamber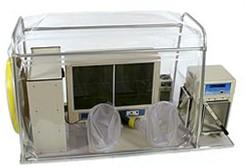 Description
Eliminates oxygen to 0-5 ppm using hydrogen gas mix (5% or less) reacting with palladium catalyst to remove oxygen
Applications
Used for anaerobic microbiology research
To reserve, please email Dr. Nicholas Bessman or call at (973) 972-1510.
-80C Freezer
Description
Large freezer located in the gnotobiotic core procedure room in MSB A-685G
Freezer on backup emergency power, samples will not be lost in the event of a power outage
Applications
Storage of samples for gnotobiotic users (ask a gnotobiotic technician to place samples into the freezer and for labeling information before use)
Housing
We have four Allentown Sealed Positive Pressure racks that house up to 48 cages each. These cages enable a germ-free environment at the cage level. The isolator cages are great for experiments as each cage provides its own individual isolated clean micro-environment.  Each cage has its own supply of clean air which is filtered through a HEPA filter.  The sterility of each cage is tested every two weeks. We have flexible film isolators available for larger mouse colonies and breeding.