Rutgers Oyster Research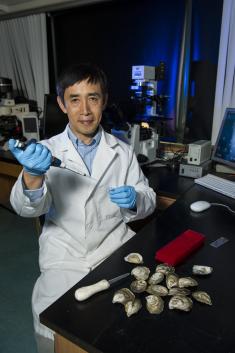 The oyster breeding program was established by Dr. Haskin in 1960 and has been under the direction of Ximing Guo since 1998. Dr. Guo joined Rutgers in 1992 after receiving his Ph.D. in fishery genetics from University of Washington. His research focuses on genetics, genomics and biology of marine mollusks. Research from Guo Lab included the development of tetraploid and triploid oysters, the sequencing genomes of oysters and other marine bivalves, genetics of sex determination, molecular regulation of oyster growth and immunity, and the development of resources for genome-based breeding.
Rutgers shellfish research takes place at the Haskin Shellfish Research Laboratory, part of the New Jersey Agricultural Experiment Station (NJAES), Department of Marine and Coastal Sciences, and School of Environmental and Biological Sciences (SEBS). The oyster breeding program is based at the Cape Shore Laboratory. Breeding of high-salinity species, such as, scallops and clams are based at the at the New Jersey Aquaculture Innovation Center.
As part of NJAES, Rutgers Oyster Breeding Program aims to support the oyster aquaculture industry with advanced breeding technologies and improved oyster stocks. The breeding program targets several traits of aquacultural importance, including, disease resistance, hardiness, growth, and shell attributes, such as, color and shape. Oysters face several diseases that are exacerbated by climate change, such as the warming and acidification of oceans.
The breeding program targets resistance to 2 important diseases of the eastern oyster, MSX and Dermo, both are endemic at the breeding site at Cape Shore in lower Delaware Bay. The program exposes oysters to both diseases in a harsh intertidal environment for 3 years, where only the most resistant and hardy oysters can survive. Genetic diversity, which is critical for oyster breeding and performance, is maintained through progressive rotational crossing of multiple lines, which also generates heterosis. Two disease-resistant strains have been released to the oyster industry:
Haskin NEH® strain, which is derived from Long Island Sound populations and shows improved growth and survival throughout the Northeastern region; and
Haskin DBX strain, which is mostly derived from Delaware Bay populations and shows improved disease resistance and tolerance for medium and low salinity environments of lower Delaware Bay.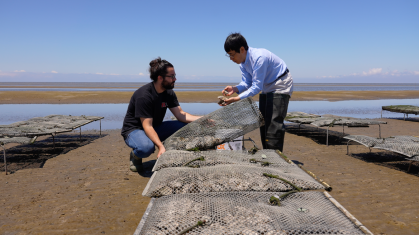 The Oyster Breeding Program develops and utilizes advanced technologies for oyster breeding. It has developed tetraploid oysters that enabled commercial production of triploids. The breeding program is currently testing genomic selection for oyster breeding. Because phenotyping disease resistance is difficult, time consuming and expensive, the use of genomic selection is expected to greatly increase selection efficiency for disease resistance. 
Rutgers Oyster History
1901: Father-Son Pioneers of Oyster Cultivation. Julius Nelson found Rutgers' Oyster Investigation Laboratory, forerunner of today's Haskin Shellfish Research Laboratory—the most productive and prolific oyster research center in the nation—and together Julius and his son, Thurlow Nelson (RC1913) would pioneer oyster cultivation. "The earliest ecological studies of bivalve larvae in the western hemisphere were conducted by Julius Nelson, biologist at the [Rutgers] New Jersey Experiment Station, and his son, Thurlow Nelson, in estuaries on the east coast of New Jersey." —Journal of Shellfish Research, June 1988.
1960: Soon after the arrival of Multinucleate Sphere X (MSX) disease to Delaware Bay that decimated the oyster population, Harold Haskin (RC'36), director of the Oyster Laboratory (1950-1984), initiated an oyster breeding program for MSX resistance. This was the first breeding program for molluscan shellfish in the world. The breeding program produced several oyster lines that showed strong resistance to MSX.
1992: An epizootic of Dermo disease caused by protist Perkinsus marinus occurred in Delaware Bay in 1990, to which the Rutgers MSX-resistant lines showed no resistance. To expand genetic diversity and breed for Dermo resistance, MSX-resistant lines were combined and crossed with wild oysters to produce two strains: NEH (Northeastern High survival) derived from Long Island Sound and DBH (Delaware Bay High survival) derived from Delaware Bay.
1993: Rutgers scientists invented tetraploid oysters with 4 sets of chromosomes (Patent US5824841A) that enabled commercial production of triploids with 3 sets of chromosomes. Triploid oysters grow significantly faster than diploids and can reach harvest size sooner, and therefore have less exposure to disease. Because triploids are sterile, they maintain high meat quality in summer and do not interbreed with or affect the wild population. Rutgers invention of tetraploid oysters has led to worldwide commercialization of triploids, which now account for 30-60% of farmed oysters in major producing countries. 
1998: The breeding program started to select fast growth and shell shape, with the introduction of new genetic materials.
2004: The disease-resistant strain derived from Delaware Bay was trademarked as Haskin CROSBreed®.
2009: The disease-resistant strain derived from Long Island Sound was trademarked as Haskin NEH®.
2012: The genome of Pacific oyster was sequenced by an international team co-directed by Rutgers, which led to significant advances in oyster genetics and biology.
2017: A new strain (DBX) was developed by crossing inbred DBH, CROSBreed®, NEH®, NEG and Delaware Bay wild oysters.
2022: Eastern oyster strains were further improved through controlled crossbreeding (Patent US11266131B2).
2023: Rutgers led the Eastern Oyster Breeding Consortium in the development of a high-density SNP array and started genomic selection for further improvement of eastern oysters.