Rutgers Hazelnut History
Recognizing the significant opportunity that exists with this low-input, high-value tree crop, an ambitious project was initiated at Rutgers University in 1996 by turfgrass breeder, professor C. Reed Funk, aided by his then Rutgers (Cook College) undergraduate student Thomas Molnar, now Rutgers associate professor in plant biology. The goal was to overcome eastern filbert blight disease of hazelnuts through breeding and help initiate hazelnut production in New Jersey and the Mid-Atlantic region. 
The hazelnut project has continued in earnest since its inception, bolstered by close collaboration with partners at Oregon State University, and later, members of the Hybrid Hazelnut Consortium. Rutgers field researcher John Capik joined the team in 2005 and since then the project has expanded to include many graduate and undergraduate students and others in the Plant Biology department including professor Bradley Hillman and assistant research professor Josh Honig.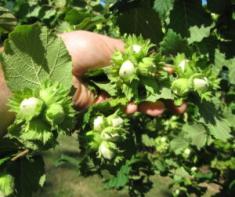 From these collaborative, long-term efforts, which include the collection and evaluation of hazelnut trees originating from all over the world, many disease–resistant hazelnut trees were identified. These special, resistant trees were subsequently used in breeding to increase kernel quality and yields in the next generation. Tens of thousands of new seedlings were planted in the field, and from them elite individuals were selected to then be tested in yield trials (and for continued breeding) at Rutgers research farms and other locations.
Finally, in 2020 the first hazelnut cultivars from the Rutgers program were released to growers. They are named 'Raritan'—in honor of the river whose banks upon which Rutgers University lies—as well as 'Somerset,' 'Monmouth,' and 'Hunterdon'—named for the first New Jersey counties where the trees are being grown.
'OSU 541.147' The Beast
'OSU 541.147' The Beast hybrid hazelnut has a history of development spanning over 30 years that includes a connection to hybrid hazelnut breeding that began in the early 1900s. It is considered a "joint" release by the Hybrid Hazelnut Consortium, which is comprised of Rutgers University, Oregon State University, the University of Nebraska-Lincoln, and the Arbor Day Foundation. The cultivar was originally selected in Oregon from a cross made in 1990 by Shawn Mehlenbacher and Dave Smith between the F1 Corylus americana x C. avellana hybrid NY 616 and the Oregon State University C. avellana breeding selection OSU 226.118.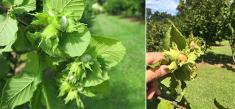 'OSU 541.147' The Beast was first propagated in 1997 and entered a replicated trial at Oregon State University for evaluation. While the selection was later shown to not meet commercial quality standards expected for the Oregon industry, its superior level of disease resistance, good kernel traits, and high yields (for a "hybrid" hazelnut) suggested its value for testing in eastern locations. Trees were first sent to Rutgers in 2002 and established in field trials at both the Rutgers Cream Ridge Specialty Crop Research and Extension Center (Cream Ridge, NJ) and Hort Farm 3 (East Brunswick, NJ) to evaluate response to EFB as well as adaptation to New Jersey's climate. The trees were grown at Rutgers for the next ten years, where they were found to be productive, free of cold damage, and completely resistant to EFB while thriving under low maintenance conditions. Trees of 'OSU 541.147' were also challenged with the EFB pathogen collected from around the eastern U.S. in controlled greenhouse inoculations, and again all trees remained free of disease!
Additional research at Oregon State University during this time showed that C. americana 'Rush' transmits a single R-gene in a predictable manner to its offspring, and this R-gene is found in a different genomic region than the 'Gasaway' R-gene–the one that protects current cultivars grown in Oregon. Thus, 'OSU 541.147' The Beast is protected by a resistance source that differs from that currently used by cultivars in Oregon, such as 'Jefferson', 'Yamhill', and 'Dorris'. It also differs from the resistance sources present in the Rutgers' cultivars 'Raritan', 'Monmouth', 'Hunterdon', and 'Somerset'. Further, the 'Rush' resistance source, as demonstrated by NY 616 and the other related NY selections (NY 398, NY 110, etc…), has been shown to hold up to EFB in the eastern U.S. and Ontario, Canada, since the 1940s, which supports its durability. Thus, adding 'OSU 541.147' The Beast to eastern orchards will diversify sources of resistance, which we expect will help growers manage EFB in the long term.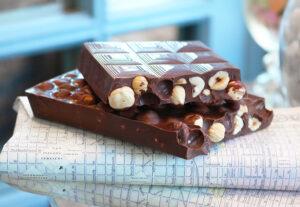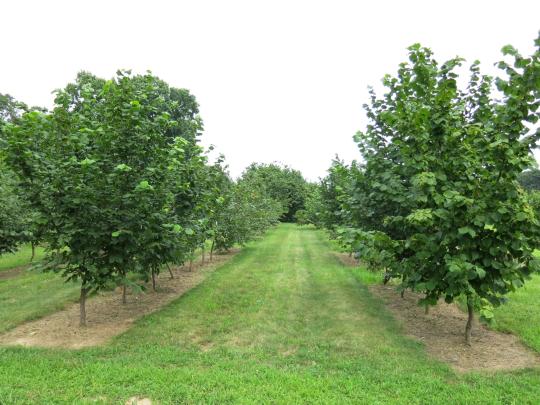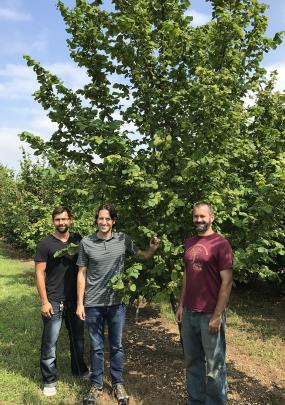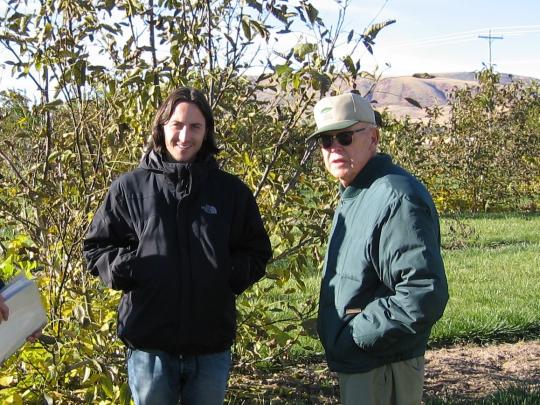 Chocolate bar made with Rutgers hazelnuts at Shane Confectionary, Philadelphia, PA. Photo courtesy of Shane Confectionary.
Five year old hazelnut orchard at Rutgers University
Hazelnut team (left to right): Emil Milan, Tom Molnar, and John Capik with The Beast
Rutgers hazelnuts ready for collection and evaluation
Tom Molnar and Reed Funk in 2007