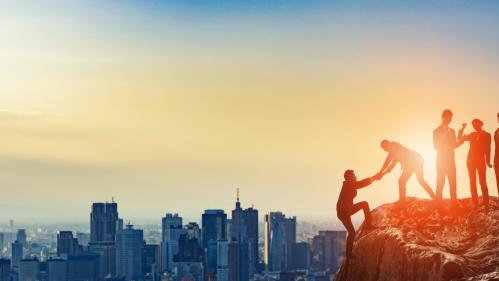 Innovation Ventures Senior Internship: Intellectual Property Law
Technology Transfer (or tech transfer) is an exciting and challenging field. Tech transfer is the process by which new inventions and other innovations created at institutions like Rutgers are turned into products and commercialized. This is achieved through licensing of institution-owned intellectual property (IP) to companies and through the creation of start-up companies. Our role at Innovation Ventures (IV), the tech transfer office at Rutgers, is to protect the IP associated with these valuable innovations so that they can be licensed and commercialized and brought to the marketplace for society's benefit.
At IV, you will have the opportunity to learn about different kinds of IP, including patents, copyrights, trademarks, plant patents, plant variety protection, and plant breeder's rights. We process new invention disclosures from Rutgers faculty and researchers, assess whether to file for IP protection, and manage the entire IP prosecution process with our outside IP counsel. We market the inventions to companies with the goal of licensing the IP. If you are interested in contract law, you can learn about our various agreements including non-disclosure agreements, collaboration agreements, inter-institutional agreements, and exclusive and non-exclusive license agreements. Our office reviews and negotiates such agreements.
WHO SHOULD APPLY:
Innovation Ventures IP team invites Rutgers Law students (rising 2L and 3L) to apply for a 1-year Senior Internship Program beginning Summer 2023. This is an excellent opportunity to explore a career in technology transfer and IP and learn about the exciting intersection of innovation and IP law at Rutgers. Interns will gain experience in technology transfer, IP protection, licensing, and contracts with projects that expose the intern to the day-to-day workings of a technology transfer office.  Applicants with undergraduate degrees in science or engineering are preferred, but this is not a requirement. We encourage students with interest in IP law (patents, copyrights, trademarks) and contract law to apply. Although not required, students may find it helpful if they have taken coursework in any of these areas. Interns will work under the guidance of a registered U.S. Patent Attorney.
GOALS:
To provide educational opportunities to gain exposure to the process of IP management in a university setting. 

To get real-world experience assisting with innovation development and the transition of technology from laboratory to market.

To provide exposure to collaborative work and decisions with both in-house and outside counsel.

To provide guidance on a potential career as a registered patent agent or attorney.

To provide opportunities for interns to improve analytical skills.
PROGRAM DESCRIPTION:
IP Law Interns will participate in various aspects of supporting the IP Team on Rutgers innovations, including:

Review patent, copyright, trademark, plant patent, plant variety protection, and plant breeder's rights applications and patents to better understand Rutgers' IP portfolio.

Ongoing IP evaluation and patent process procedures involving projects including conducting patent research, assisting in the evaluation of university technologies for patentability, learning about preparation of patent applications and prosecution, reviewing and analyzing Rutgers IP portfolio.

Interact with the Licensing Team, Rutgers inventors, and outside counsel to better understand patent prosecution, strategy, and IV procedures.

Participate in the IV Technology Transfer Internship education series held late summer-early Fall. Topics include marketing of technologies, interacting with industry, and the basics of IP.

Train the incoming Senior Interns.
PROGRAM REQUIREMENTS:
Must be currently enrolled in Rutgers Law program as a rising 2L or 3L.

Commitment of minimum of 10 hours/week (or up to 20 hours/week)

. Ability to work onsite and remotely.

Preferred, but not required:

Bachelor's or advanced degree in a life science, physical science, and/or engineering.

Completed coursework in

IP law (patents, copyrights, trademarks, etc.) and/or contract law.
HOW TO APPLY:
Submit the following information as ONE PDF file to alexandra.pechhold@rutgers.edu and copy shemaila.sultana@rutgers.edu by June 2, 2023:
Cover letter: (answer the following)

Tell us about yourself and what motivated you to apply?

Where do you see yourself professionally after you graduate?

How and why will this program help you get there?
Resume (2-page limit) and unofficial transcript.

Written permission from your research advisor or faculty advisor.
IMPORTANT NOTE: 
This Internship program is highly competitive, and no one is guaranteed admittance. Shortlisted candidates will be scheduled for interviews during early June 2023.  Selected Senior Interns will need to sign a confidentiality agreement with Innovation Ventures. This is an unpaid position. There is no implied or guaranteed offer of employment upon completion of the Internship. A certificate of program completion and a letter of recommendation will be provided as requested.