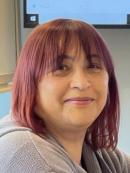 Sieglinde Frietag-O'Connor
Research Financial Services - Newark Office
Stanley S. Bergen Jr. Building
65 Bergen Street
Newark, NJ 07107
Phone: (973) 972-6456
Fax:  (973) 972-3425
About Us
Research and Financial Services performs central financial accounting for grants and contracts. We provide post-award administration support services for the university's sponsored programs and other restricted funds, including the coordination of effort certification processes.
Our services include financial reporting, invoicing and cash management, audit and award closeout, quality assurance and compliance, effort certification, and training and development. We assist faculty and staff with grant management as part of the award life cycle, which is outlined on the Research and Sponsored Programs website.
Research Financial Services Helpdesk
Please contact the Research Financial Services Helpdesk for any Oracle-related issues, including revenue discrepancies, unposted expense entries, reporting requests, Project Segment Change Requests and Project Manager updates.