NSF I-Corps Hub Northeast Region Innovating Together: Merck Digital Sciences Studio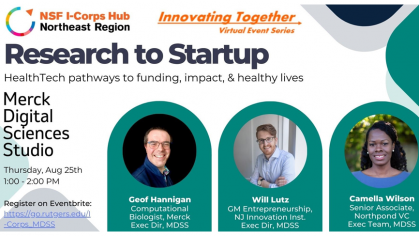 For researchers exploring commercialization pathways and funding for their innovation, join us for the next special event in the Innovating Together Series hosted by the Northeast I-Corps Hub!
Come learn about how NSF I-Corps and the Merck Digital Sciences Studio can help you bring your technology closer to solving real-world problems, follow-on funding, and impacting lives! Whether you're far along in your commercialization journey or just starting out and wanting to learn more about innovation, all are welcome!
We will hear from the Merck Design Sciences Studio (MDSS) panel:
Geof Hannigan, Computational Biologist at Merck & Executive Director of MDSS,will discuss how this new MDSS program was created.
Camella Wison, Senior Associate of Northpond VC & Executive Team of MDSS, will discuss why they are investing in these types of programs and technologies.
Will Lutz, GM Entrepreneurship at NJ Innovation Institute & Executive Director of MDSS will discuss program details and how teams with I-Corps experience are well-equipped to succeed in the program!
NSF I-Corps Hub: Northeast Regional Cohort 5 applications have rolling admissions and the required sessions will take place 9/29, 10/4, 10/13, 10/20 from 4:00pm to 7:00pm ET, with required Office Hours/Mentor Meetings scheduled weekly. The deadline to apply is 9/08. Please visit https://icorpsnortheasthub.org/ to apply.