Innovating Together: I-Corps Northeast Hub and HAX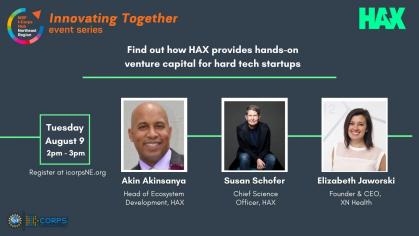 If you want to learn more about the NSF I-Corps Hub Northeast Regional Program or have already completed an I-Corps regional program, come learn about how NSF I-Corps and HAX could be a great potential next step for your research team and your innovation. Hear how I-Corps can help you bring your technology closer to solving real-world problems and follow-on funding!
Representing the HAX team, Head of Ecosystem Development, Akin Akinsanya, will discuss the expanding Innovation Ecosystem and why HAX chose Newark, NJ, and Chief Science Officer, Susan Schofer, will discuss the 6-month HAX program and how teams with I-Corps experience are well-equipped to succeed with follow-on investment and building the right prototype! Elizabeth Jaworski, Founder & CEO of XN Health, will discuss her experiences in both I-Corps and HAX and share some tips on how to succeed in transitioning technology from lab to market.
NSF I-Corps Hub: Northeast Regional Cohort 5 applications have rolling admissions and the required sessions will take place 9/29, 10/4, 10/13, 10/20 from 4:00pm to 7:00pm ET, with required Office Hours/Mentor Meetings scheduled weekly. Go to https://icorpsnortheasthub.org/ to apply.