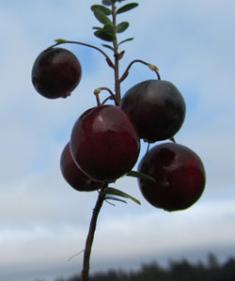 Variety: Welker™
Principal Investigator(s): Dr. Nicholi Vorsa, Jennifer Johnson-Cicalese
Welker™ is distinguished by high productivity, early mid-season ripening period, precocious cropping, and moderate-to-high fruit anthocyanin, as compared to the currently cultivated commercial varieties.
Welker™ resulted from a 1999 cross between #35 variety and NJS98-34 ('Ben Lear' x 'Franklin'). The #35 variety is an unpatented variety from a 'Howes x Searles' cross from the 1940's USDA/NJAES Cranberry Breeding Program. Welker™ was originally selected from 112 progeny of this cross growing in test plots at the Philip E. Marucci Center in Chatsworth, NJ.
Welker™ was named in honor of Dr. William V. Welker, a former USDA weed research scientist who worked at Rutgers University. In addition to his contributions to cranberry weed management, Dr. Welker envisioned improved cranberry varieties through breeding, and provided guidance, vision, and support to the Rutgers Blueberry & Cranberry Research & Extension Center. Dr. Welker took pride in the fact that he encouraged Dr. Vorsa to accept the Rutgers position as cranberry breeder!
Very high yield potential
Large ovate berry weighing an average of 2 g per berry
Uniform fruit color
Welker™ comes into significant production early, usually within 3 years, and exhibits consistently high yields with early to mid-season ripening
Flowering period is early, like Crimson Queen® and Ben Lear, and will likely require early fungicide applications for fruit rot control
Although originally selected under New Jersey's climate and soils, Welker™ is recommended specifically for "oceanic climate" regions, such as Oregon, Washington, and British Columbia
U.S. Plant Patent PP27,709 issued May 26, 2016
Cranberry variety named 'CNJ99-52-15'
Canadian Plant Breeders' Rights Certificate #6509, granted November 23, 2021
Pending Plant Breeders Rights application in Chile
All trademarks are registered and continue to be enforced
Rutgers patented new Cranberry varieties are available to commercial cranberry growers in the U.S. and Canada, under license from Rutgers University.
To request a license agreement for our Rutgers cranberry varieties, please use the form below.
RU Grower Online Reporting App
Welcome to the Rutgers University Grower Online Reporting App!
To make it easier for our licensees to submit Annual Reports, Rutgers has developed this user-friendly online platform which will enable you to submit annual reports electronically. Once you create your account,  your reports will be available for easy updates in future years. As always, the information provided is kept confidential.
Cost-Benefit Analysis Tool
The Cost-Benefit Analysis Tool was developed to assist cranberry growers in making informed economic decisions on variety selection for field renovation or purchase.