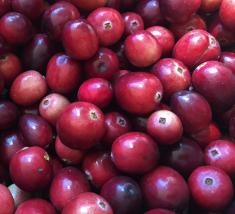 Variety: Scarlet Knight®
Principal Investigator: Dr. Nicholi Vorsa
Scarlet Knight® is distinguished by very early season ripening, with exceptional early and high fruit anthocyanin (TAcy) and high fruit quality, making it highly suitable for the fresh fruit market
Scarlet Knight® was derived from a cross made in 1995 between 'Stevens' and NJS98-37 (a Franklin x Ben Lear hybrid, full sib of Demoranville®), and released in 2012. It derives its name from Rutgers mascot, the Scarlet Knight.
Early ripening to a dark red, uniform color
High red pigment (anthocyanin) content
Lower titratable acidity
Rounder, medium large fruit size, to 2.4 grams/berry
Round fruit shape facilitates sorting and packaging
Good keeping and storage properties, weeks longer vs. other varieties
Good yields, averaging 250 – 350 barrels/acre
Scarlet Knight® registered trademark provides a potential high value at retail
The taste profile of Scarlet Knight® may need adjustment for cooking and baking recipes vs. standard cranberries
U.S. Plant Patent PP22,541 issued March 6, 2012
Cranberry variety named 'CNJ95-20-20'
Canadian Plant Breeders' Rights Certificate #5552 granted October 5, 2017
Registered Trademark in Canada (TMA858558)
Registered US Trademark No. 4,358,536
All trademarks are registered and continue to be enforced
Rutgers patented new Cranberry varieties are available to commercial cranberry growers in the U.S. and Canada, under license from Rutgers University.
To request a license agreement for our Rutgers cranberry varieties, please use the form below.
RU Grower Online Reporting App
Welcome to the Rutgers University Grower Online Reporting App!
To make it easier for our licensees to submit Annual Reports, Rutgers has developed this user-friendly online platform which will enable you to submit annual reports electronically. Once you create your account,  your reports will be available for easy updates in future years. As always, the information provided is kept confidential.
Cost-Benefit Analysis Tool
The Cost-Benefit Analysis Tool was developed to assist cranberry growers in making informed economic decisions on variety selection for field renovation or purchase.