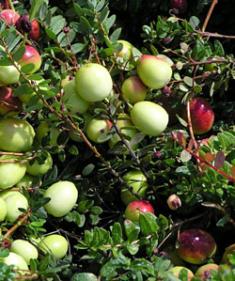 Variety: Mullica Queen®
Principal Investigator: Dr. Nicholi Vorsa
The Mullica Queen® cranberry variety was selected under New Jersey's stressful conditions, which offers a unique germplasm background and the potential for rapid bed establishment, due to its higher stolon vigor, and exceptionally high yields. Mullica Queen® originated from a cross made in 1997 at Chatsworth, NJ between 'Lemunyon' and '#35' and was released in 2008.
Exceptionally high yield potential
Slightly higher fruit anthocyanin (red pigment) content
Coarser vine, tendency to produce multiple flower buds, higher fruit set
More rapid establishment and vigorous growth
Mullica Queen® is an earlier flowering variety, 3-5 days earlier compared to the 'Stevens' variety
Unique genetic background, unrelated to the commonly used 'Stevens' and 'Ben Lear' varieties
US Plant Patent No. PP19,434 issued November 11, 2008
Cranberry variety named 'CNJ97-105-4'
Canadian Plant Breeders' Rights Certificate 4423 issued November 1, 2012
Registered Trademark in Canada
Registered Trademark in Peru
Pending Plant Breeders Rights application in Chile
All trademarks are registered and continue to be enforced
Rutgers patented new Cranberry varieties are available to commercial cranberry growers in the U.S. and Canada, under license from Rutgers University.
To request a license agreement for our Rutgers cranberry varieties, please use the form below.
RU Grower Online Reporting App
Welcome to the Rutgers University Grower Online Reporting App!
To make it easier for our licensees to submit Annual Reports, Rutgers has developed this user-friendly online platform which will enable you to submit annual reports electronically. Once you create your account,  your reports will be available for easy updates in future years. As always, the information provided is kept confidential.
Cost-Benefit Analysis Tool
The Cost-Benefit Analysis Tool was developed to assist cranberry growers in making informed economic decisions on variety selection for field renovation or purchase.