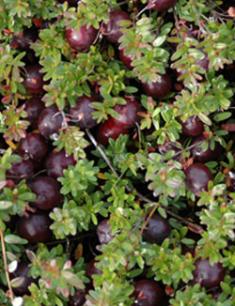 Variety: Haines™
Principal Investigator(s): Dr. Nicholi Vorsa, Jennifer Johnson-Cicalese
A new cranberry variety distinguished by consistent high productivity, mid-season ripening, round to ovate fruit, and moderate fruit anthocyanin development, as compared to the currently cultivated commercial varieties.
Haines™ resulted from a 1999 cross between Crimson Queen® and #35 (unpatented variety from 'Howes x Searles' cross from 1940s USDA/NJAES breeding program). Haines™ was selected from 138 other progeny from this cross due to its very high yield potential, and then continued to perform well when evaluated in regional variety trials.
Haines™ was named in honor of the late William (Bill) Haines Sr., a lifelong NJ blueberry & cranberry grower, and a strong supporter of Dr. Vorsa's breeding program, and the Marucci Center for Blueberry & Cranberry Research & Extension Center.
Consistent high yields with mid-season ripening
Large round berry and uniform fruit color
Recommended for all cranberry growing areas
Haines™ has exhibited less fruit rot than the Stevens variety
Moderate fruit anthocyanin development
U.S. Plant Patent PP27,657 issued February 14, 2017
Cranberry variety named 'CNJ99-9-96'
Canadian Plant Breeders' Rights Certificate #6508, granted November 23, 2021
Pending Plant Breeders Rights application in Chile
All trademarks are registered and continue to be enforced
Rutgers patented new Cranberry varieties are available to commercial cranberry growers in the U.S. and Canada, under license from Rutgers University.
To request a license agreement for our Rutgers cranberry varieties, please use the form below.
RU Grower Online Reporting App
Welcome to the Rutgers University Grower Online Reporting App!
To make it easier for our licensees to submit Annual Reports, Rutgers has developed this user-friendly online platform which will enable you to submit annual reports electronically. Once you create your account,  your reports will be available for easy updates in future years. As always, the information provided is kept confidential.
Cost-Benefit Analysis Tool
The Cost-Benefit Analysis Tool was developed to assist cranberry growers in making informed economic decisions on variety selection for field renovation or purchase.