Rutgers Entrepreneur Highlights
Meet Lou Cooperhouse
Name: Lou Cooperhouse, Co-Founder and CEO
Rutgers Affiliations: BS, Microbiology (1983), MS Food Science (1987)
Company: BlueNalu
Location: San Diego, CA
Year Established: 2017
Number of Employees: 30
Funding: Total funding is $84.5 million, most recent funding round of $60 million
What We Do: BlueNalu's mission is to be the global leader in cell-based seafood, providing consumers with great-tasting, healthy, safe, and trusted seafood products that support the sustainability and diversity of our ocean. The company produces real seafood products directly from fish cells, in a way that is healthy for people, humane for sea life, and sustainable for our planet.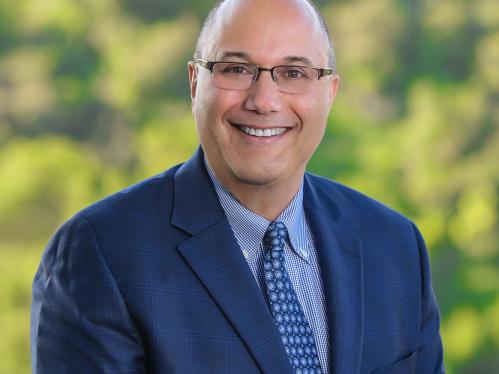 Meet Lou Cooperhouse
Meet Lou Cooperhouse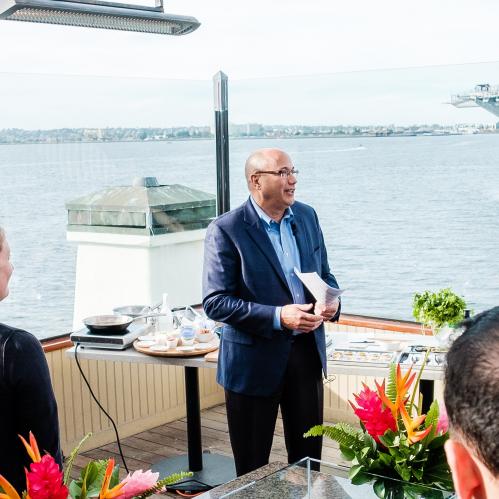 Lou Cooperhouse has a long history with Rutgers - and entrepreneurship. After earning his undergraduate and graduate degrees at Rutgers, Lou started his career in the food industry with roles at companies including Campbell Soup Co., ConAgra Foods, and Nestle USA, and held positions of increasing responsibility in product development, quality assurance, business development, and operations.   Lou's first position was as a Quality Assurance Technician at Campbell's, working the third shift (midnight until 8:30 am) that he held while pursuing his master's degree full-time at Rutgers.   Lou was continually provided new opportunities for growth, and was promoted seven times in his first seven years in the industry, and held the position of Vice President of R&D/Technical Services before he was 30 years old, and became President of a company just five years later.
After holding many "intrapreneurial" positions within these large organizations, Lou also had the entrepreneurial "bug" and then began a career in consulting and subsequently co-founded MenuDirect Corporation in the mid-1990s, where he served as President & CEO.  MenuDirect was a medical foods company that designed and developed culinary-driven frozen meals, including foods specifically formulated for diabetes, PKU, dysphagia, and the first comprehensive line globally of entrees for celiac disease and gluten-free diets. Due to its unique business model, MenuDirect was recognized as one of the top 10 Industry Innovators globally by Nutraceuticals World magazine in 2000.  During his time at MenuDirect, Lou reconnected with his alma mater, Rutgers, and engaged a team of 15 students to work on a real-world project for his company, to research the potential for reimbursement of special dietary foods at the state-level throughout the US.   This experience proved to be a model for Lou's work at Rutgers years later.
While working with the university, Lou connected with the then Executive Dean of Cook College and Director of the NJ Agricultural Experiment Station (NJAES), Soji Adelaja, where he learned about interest at the NJAES in starting a food incubation program as a way to support farmers and other food/agricultural entrepreneurs with the development of value-added and consumer-driven specialty products.  Lou was asked to develop and implement a service-driven strategy and execution plan for this novel idea and found this to be a great opportunity to apply his expertise gained in the food industry.  After initially consulting for Rutgers, Lou was asked to join full-time as an employee, and he agreed to apply his diverse food industry knowledge in this academic environment, with a personal goal of creating a world-class entrepreneurship development and support program within Rutgers University.  After developing the strategy and service requirements for this incubator program, Lou recruited an outstanding team of food industry professionals, that provided the breadth and depth of services that were required by food entrepreneurs.  Lou, together with Margaret Brennan-Tonetta, developed and continually refined this strategy for what became the Rutgers Food Innovation Center (FIC), and secured over $12 million in grants in a relatively short period of time to support the capital and operating costs of the Center in Bridgeton.   Lou served as Director of the Center from 2001 through 2010, and then returned to the private sector where he served as President & COO of F&S Produce, a leading supplier of value-added produce throughout the Northeast.  Lou returned to the Rutgers Food Innovation Center in 2014 where he then served in an expanded role as Executive Director and oversaw the Center's incubator and food industry support programs based in Bridgeton, Piscataway, and New Brunswick.
During his time at the FIC, Lou was very active in the local innovation community, and also worked as an adjunct faculty member to MBA students at the Rutgers Business School, encouraging interdisciplinary teams of students within their Capstone projects to work on real-world problems and entrepreneurial thinking.  The Center also worked with Choose NJ and the NJ state government to attract domestic and international companies to New Jersey, and Lou developed a statewide industry cluster model for food business attraction and retention.  One of these companies that Lou attracted to the Rutgers FIC was Impossible Foods, which has been extremely successful in its development of a plant-based hamburger patty and has received significant funding to date.   Lou personally managed the Impossible Foods project, and the FIC team supported engineering, operations, quality assurance, training, and other aspects, and Impossible Foods launched their first commercial products from the Rutgers FIC facility in Bridgeton and operated there for about two years.
With this unique strategy in place, and the tremendous success that resulted from its many clients, the Rutgers FIC became internationally recognized for its economic development impacts and was recognized as the "Business Incubator of the Year" by the International Business Innovation Association (InBIA); and as a nationwide model and an "Agricultural Innovation Center Demonstration Program" by the USDA.  Given the Center's notoriety, Lou also was asked to provide expert testimony to the US Congress on best practices in business incubation and industry cluster formation, which subsequently led to a new program of the US SBA that provided seed funding for business incubators and accelerators across the nation. 
During his tenure as Director or Executive Director of the Rutgers FIC, Lou also served as the President of the NJ Business Incubation Network; Executive Director and President of the NJ Food Processors Association; on the Board of Directors of the InBIA; on the Board and a member of the Executive Committee of the Refrigerated Foods Association; on the board of the United Fresh Produce Association; on the Board of Managers of the NJ Agricultural Experiment Station; on the Editorial Advisory Board of Produce Processing Magazine; and as a member of the External Advisory Board of the Rutgers Food Science Department. 
In 2013, Lou became very intrigued by an extremely novel development in the food industry.   At that time, Lou read about a professor in the Netherlands, who developed the first proof of concept for creating an "animal-based product without the animal", and the first cell-based hamburger product that was featured in the New York Times and in publications worldwide.  According to Lou, this technology was "an absolute game-changer", and an opportunity to totally disrupt and transform the protein industry.   Lou was quite enthusiastic about the quick and tremendous success in the plant-based category but saw these types of products as a "pathway" to a more longer-term and much more disruptive solution that cell-based products can achieve in response to rising consumer interests in alternative proteins.  When Lou first heard about this technology, he felt that this was clearly "the holy grail" and the perfect solution to an increasingly troubling global challenge in our protein supply.  
The cell-based industry began with meat and poultry products, as the technology for growing mammalian animal cells was relatively well known.  However, after studying this area of work, Lou decided that seafood, and not meat or poultry, was clearly the most promising market and business opportunity in which cell-based processes can be applied.   Other companies in this field were focused on the technology that they knew, and not the market that could ultimately be most successful, and Lou recognized this tremendous gap and opportunity.  
Lou recognized that seafood represents a unique global supply chain challenge and is arguably the most vulnerable supply chain on our planet.  As global demand for seafood is at an all-time high and anticipated to increase dramatically in the decades ahead, our supply is continually diminishing due to overfishing, illegal fishing, and the effects of climate change.  As a result, there will continue to be a significant supply chain gap in the years to come, along with an escalation in prices.  Furthermore, our seafood supply is increasingly compromised with human health issues, including the presence of mercury, toxins, pollutants, microplastics and other contaminants.  The opportunity to create great tasting seafood products - with all of the positives of seafood, without any of the negatives – could clearly be a game-changer.  In addition, a successful company in this space can provide a significant impact to global food security issues, with a tremendously powerful environmental footprint, as seafood today is commonly imported from very long distances to nations around the world, perhaps 10,000 miles from Southeast Asia to New Jersey, only to result in about a 60% yield at the restaurant or home.  A cell-based seafood product would have 100% yield, as it's just the filet that is being produced via this technology, without the head, tail, bones and the potential for cross-contamination that comes from fish skin. The process for growing cells derived from animals uses common industry practices, in which a future factory looks quite similar to a micro-brewery.
Throughout his career, Lou has frequently spoken at food industry conferences, as a futurist discussing evolving trends and technologies, and found himself continually talking about the disruptive potential of cell-based foods, and seafood in particular.    Sure enough, the venture capital community was beginning to recognize the potential for this category too, but there were no startups that existed globally with the right business model to be successful in this category.  In the fall of 2017, after speaking about food trends and this new technology while at an industry conference in Hawaii, Lou was approached to develop the strategy and launch a business in cell-based seafood, and to serve as President & CEO of this new company.   In early 2018, Lou founded BlueNalu, together with Chris Dammann as CTO, who is an expert in cell biology, tissue culture, regenerative medicine, metabolic engineering, intellectual property, and genomics, together with another co-founder and New Crop Capital.  BlueNalu was able to quickly raise a total of $4.5 million in seed funding – which was the largest seed round globally in cell-based proteins at that time.  Lou credits a strong technical and operational consumer-driven strategy, an experienced team, a holistic approach that recognized all of the challenges required for long-term success from the company's outset, a focus on scale production, and the right timing as keys to their success in attracting investors and creating the company.   Lou decided to retire from Rutgers in early 2018, and return to the private sector to dedicate himself full time to BlueNalu.
BlueNalu was based in San Diego due to the availability of experts in regenerative medicine, cell biology, tissue engineering, and biopharmaceutical and food engineering and processing. But there were many challenges ahead. No company or academic organization had ever propagated fish cells before – only mammalian cells had been successfully propagated, and applying these same protocols for growing fish cells did not work. This process was also not yet understood by the FDA, or approved by any nation in the world, and a regulatory methodology did not even exist. In addition, although plant-based meat, poultry, and seafood products were beginning to see tremendous interest by consumers, BlueNalu did not know whether consumers would ultimately accept this concept of cell-based seafood. And this all had to be done at costs that were affordable to consumers.  
Despite these hurdles, Lou recognized that the potential for industry disruption was significant, and felt that these challenges could be overcome with the right business model, and the right technology and operational strategy.  He also recognized that it would be very strategic and thoughtful to focus on seafood products that are typically imported, so the company could minimize any potential opposition from conventional agriculture and aquaculture.  By displacing imports, BlueNalu could also build factories in the US or wherever it goes to market, and also create jobs as well – a "win-win" for all concerned.   BlueNalu could offer consumers a third solution to the seafood supply chain – and supplement the wild-caught and farm-raised options that exist today – and help create more stability, security, and a consistent year-round supply that is so sorely needed. 
Under Lou's leadership, BlueNalu has made considerable progress over the past two years, and has become the global leader in the development of cell-based seafood with a solution to the significant challenges in our seafood supply chain that will be healthy for people, humane for the sea life, sustainable for our planet, and also significantly increasing our global and local food security needs as well.   The Company is moving quite quickly, and is now preparing for pilot production, regulatory clearance, and a test market launch from its recently announced 38,000 sq. ft. commercial pilot plant during the second half of 2021.  
BlueNalu recently raised another $20 million in its Series A round, which is again the largest A round globally in the category of cell-based proteins.   The company has attracted investors from 11 nations to date, including strategic investments from multinational food companies including Nutreco, based in the Netherlands; Sumitomo, based in Japan; Pulmuone, based in South Korea; and both Griffith Foods and Rich Products, based in the USA.  
BlueNalu has developed a platform technology, in which it will provide a broad array of finfish species to customers during the next few years – this includes Bluefin tuna, red snapper, mahi-mahi, and yellowtail amberjack.  In late 2019, BlueNalu debuted its yellowtail amberjack species to demonstrate product performance similar to conventional fish fillet in all cooking applications (e.g. steamed, fried, marinated, raw, direct heat, etc.).   BlueNalu's products are "just the filet", so represent 100% yield (compared to the average 60% yield that exists today from conventional fish sources); they are manufactured in local factories (rather than being imported), contain no mercury or other toxins, utilize no genetic engineering, and are better for the oceans and the environment. With such promising economic and sustainability benefits, we can't wait to see what comes next for the BlueNalu team in their entrepreneurial venture!
Advice to entrepreneurs
I found it to be a fabulous first step in my career to work at larger food companies right out of college, as this is how you can learn about industry best practices, seek mentors, and learn from industry experts.  However, once you are ready to get started in an entrepreneurial endeavor, it is certainly ideal to get engaged early on in a company as this is where you can make the greatest impact and have the greatest personal (and financial) reward.  When seeking out an entrepreneurial business opportunity, however, it's critical to find where there's a gap in the industry, and where you can provide unique and differentiated consumer benefits or a new and more efficient way to get things done.   Find ways to fight the model of "this is how we've always done things" and create a new solution that can potentially be transformative or disruptive.  It's also important to recognize your own personal strengths, and also your own weaknesses, and create a team environment with all of the disciplines and expertise that will be required for success.   In preparation for all of this, some of the best experience you can gain in college is to work on projects that solve real-world challenges and to work within a cross-functional team as this will be the best training ground to ultimately be successful in the industry.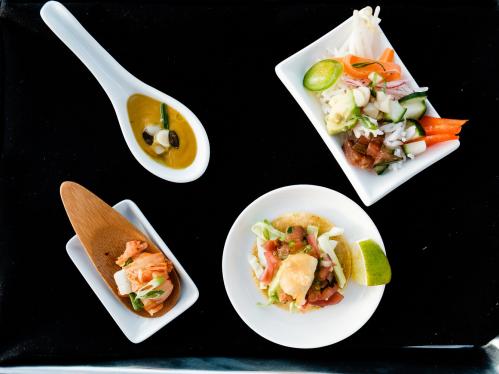 Favorite Rutgers Memory
There are so many! It was so exciting to see the Food Innovation Center grow from just an idea to a globally recognized model for university-driven economic development in just a few years.  However, I most enjoyed working directly with our Food Innovation Center team of experts, where we collaborated with each other and helped entrepreneurs realize their dreams of getting their products onto the shelf. I also greatly enjoyed the time in which I worked with MBA students in a Capstone program, as an Adjunct Professor in the Rutgers Business School, where I was able to create a cross-functional team environment that solved real-world projects from our industry clients – this resulted in such a differentiated and unique experience for graduating students that can be invaluable at landing their first job in the industry and preparing them for successful roles in the workplace – or in the future startup of their own companies.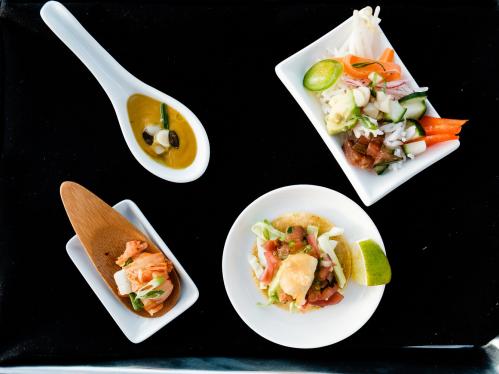 What is your superpower?
My superpower, if I have one, is to understand what long-term success looks like at the onset of an idea, and each sequential and parallel step that will be required in the process for achieving this success.  Throughout my 35-year career in the food industry, I have found myself to be continually in these situations in a broad array of environments and experiences, and I feel that I excel at multi-tasking and accomplishing tasks that have never been done before, in which so many obstacles need to be overcome.  I am very motivated at the thrill of creating new businesses from scratch or reinventing existing ones, and BlueNalu is by far the most innovative and disruptive business opportunity I've ever developed.   
I also realize that real success only comes from the development of an outstanding and interdisciplinary team, with all of the experiences that will be necessary to accomplish the goals and to continually nurture and support this organization. A leader creates the vision for the future; develops, implements, and continually refines the strategy; and builds, motivates, and inspires an organization to execute that vision.  As they say, there is "no I in team" and the "whole is greater than the sum of its parts".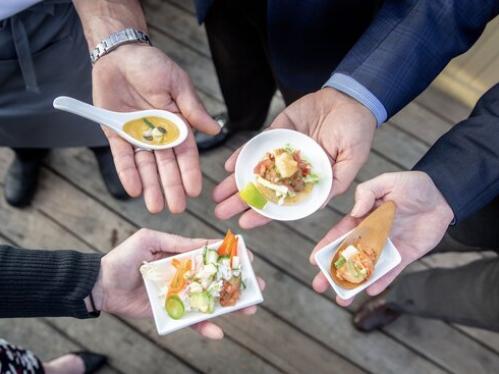 Just for fun
I was raised at the New Jersey shore, but am now really enjoying living in San Diego and near the beautiful beaches out here. I love the ocean and want to do anything I can to support its long-term health and maintain its biodiversity.   My wife, Liz (who I met at Rutgers when we lived on the same floor in Frelinghuysen), and I are very fortunate that our two sons and their wives are all out in Southern California now too (and we now have a granddaughter!), so we greatly enjoy spending lots of family time together, and traveling both locally and throughout the world where we can explore new areas, new cultures, and new cuisines.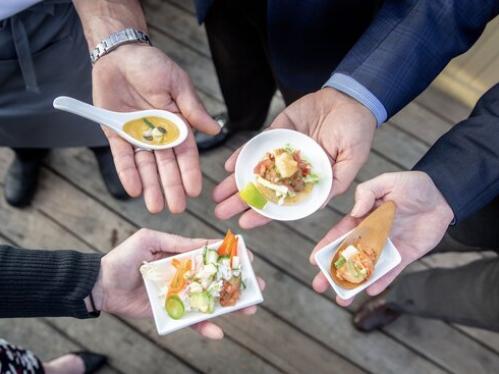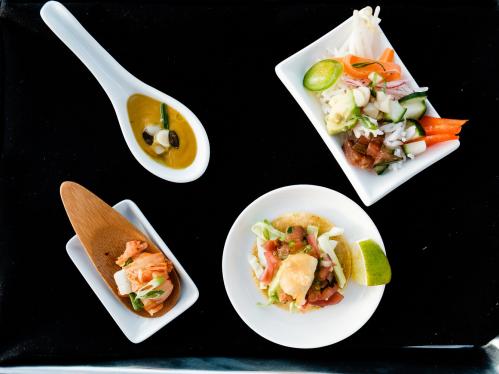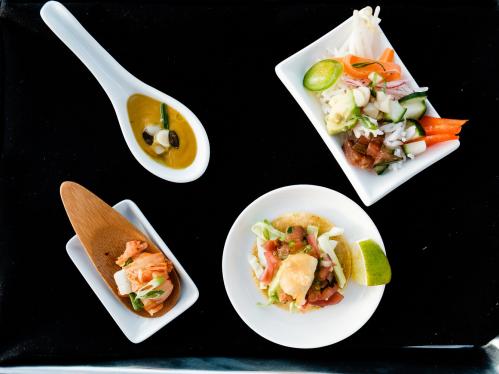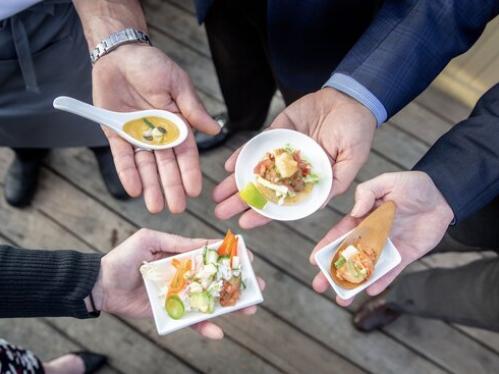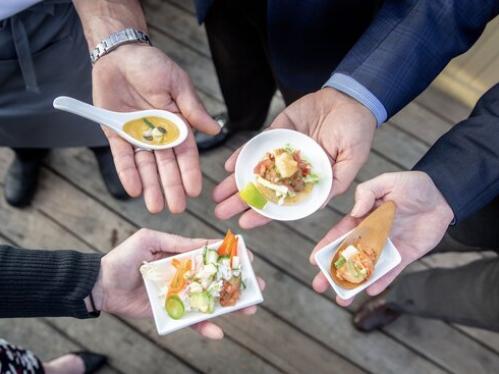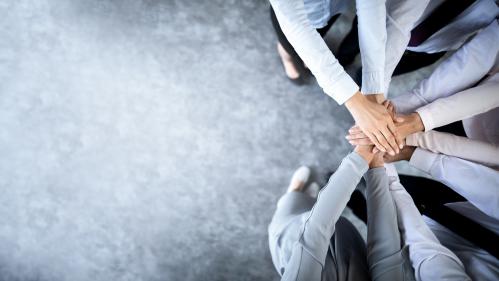 Entrepreneurship Partnerships