Rutgers Innovators Receive Edison Patent Awards in Agriculture, Forensic Science Categories
Basil varieties that are resistant to the deadly downy mildew disease. A computational tool that calculates the probability of the number of contributors in a DNA profile. These two innovations share two things in common: both were developed at Rutgers, The State University of New Jersey, and both received Edison Patent Awards at the Research & Development Council of New Jersey (RDNJ) annual banquet.
Rutgers School of Environmental and Biological Sciences Distinguished Professor Jim Simon, PhD, and Extension Specialist Andy Wyenandt, PhD, received the Agriculture award for "Downy Mildew Resistant/Tolerant Sweet Basil Varieties" patent (U.S. 10,159,212). Simon and Wyenandt used innovative and traditional plant breeding technologies to identify particular genes in basil that they later used to breed disease- and climate-resistant varieties. Certain varieties, including Rutgers Devotion DMR (downy mildew resistant), Rutgers Obsession DMR, and Rutgers Passion DMR, were each bred to withstand the deadly pathogen BDM (basil downy mildew).
Their work is highlighted in the science-in-action film Fields of Devotion, which focuses on the process of identifying the genes for disease resistance in commercial basil and the impact Simon and Wyenandt's research has had on the New Jersey basil farming industry. The film is now streaming on Kanopy, which is free for university staff, faculty, and students, or anyone with a public library card.
"Given the prestigious and competitive nature of the Edison Patent Awards, this was a welcome surprise for us," said Simon and Wyenandt in a joint statement. "We have spent over a decade working with graduate and undergraduate students and the farming community to provide a solution to a very complex global problem. The development and release of novel downy mildew resistant sweet basils has had a positive economic impact for the New Jersey farming community. It's quite humbling and we are proud and honored to be recipients of this award."
A team from Rutgers-Camden, led by Henry Rutgers Chair and Associate Professor of Chemistry Catherine Grgicak, PhD and Professor of Computer Science Desmond Lun, PhD and featuring NEC Professor of Software Science and Engineering at MIT Muriel Medard, MS, ScD, and Rutgers Camden PhD recipient Harish Swaminathan, received the Forensic Science award for "Systems and Methods for Determining an Unknown Characteristic of a Sample" patent (U.S. 10,504,614). Their technology, called NOCit, more accurately and fully identifies the number of contributors (NoC) in a DNA mixture than any existing method.
Accurately assessing the NoC in DNA samples is vital in forensic analysis. In a test conducted in 2020, NOCIt correctly identified the number of contributors in more than 90% of 815 DNA mixtures experimental samples and corrected 28% of the incorrect estimations made by the best pre-existing method. Through Rutgers Office for Research, NOCIt has been licensed to SoftGenetics, LLC, a U.S.-based company with over 20 years of experience developing and supporting DNA analysis software, to commercialize the innovative technology.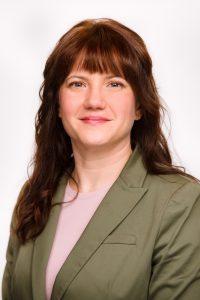 "I am honored to receive an award named after one of the most creative and prolific inventors of all time," said Grgicak. "Thomas Edison's work still touches us today, and it is in that spirit the Desmond and I work. We always strive to build technologies that positively affect criminal justice stakeholders, while meeting standards of technical adequacy and fairness. I am humbled to have this vision recognized by the Research & Development Council of New Jersey and to be included in a group of such inspirational inventors.
"The main theme of our work is that we strive to conduct complete evaluations of as much of the evidentiary data as is feasible," she continued. "In the specific technology being honored, we apply computational methods that inform on what number of donors explains the forensic DNA evidence best. By providing more information earlier on in the forensic decision-making process we estimated that there would be less ambiguity about why a certain DNA profile was interpreted a certain way, which, we believed, would support more consistent decision-making across laboratories that adopt the technology."
"Evidence is the bedrock of a good criminal justice system, and DNA is one of the most important forms of forensic evidence. The technology we have developed provides an accurate, systematic way of determining the number of contributors in a forensic DNA sample, which in turn enhances the interpretation of forensic DNA evidence through improved accuracy and consistency," said Lun. "It is humbling for our work to be recognized by the Research & Development Council of New Jersey with an award that honors inventors named after Thomas Edison. We have always endeavored to do research with real-world applications and impact, and to receive an award in that spirit is especially meaningful."
"These four researchers, and the important work they do in finding solutions to issues facing society, are perfect examples of what research at Rutgers is all about. Between this year and last, Rutgers investigators have received four Edison Patent Awards in four different categories, highlighting the breadth of research that is being conducted on our campuses." said Michael E. Zwick, senior vice president for research. "We are immensely proud of these researchers' work and accomplishments."
"Both of these research teams embody the notion of 'Rutgers excellence'," said Deborah Perez Fernandez, PhD, MBA, executive director of Rutgers Technology Transfer. "We are thrilled that the important work they are doing is receiving this deserved recognition and honored to have played a role in the success and commercialization of these innovators' research and technologies."
Rutgers Office for Research, which supports the research, mission, and creative endeavors of all Rutgers faculty, helped license the novel varieties of basil and negotiated the license between the university and SoftGenetics.