Improving Lives Around the World
Our researchers are dedicated to improving people's lives and communities around the world, from examining how children and adults understand language to mitigating the impact of climate change; from studying race and racism to developing vaccines to treat disease.
Focus on Faculty
Focus on Faculty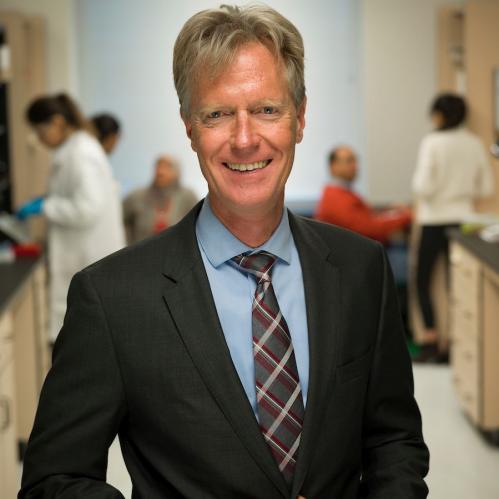 Detlev Boison, PhD
Robert Wood Johnson Medical School
About My Research
My research is based on the premise that fundamental changes in metabolism and biochemistry play a causal role in brain disease. We specifically focus on the evolutionary ancient molecule adenosine, which links energy metabolism with brain function. By reconstructing normal adenosine function we seek to develop novel treatments for epilepsy, traumatic brain injury, and cancer. For example, adenosine is the brain's own seizure stopper, but its levels decrease in epilepsy. Increasing adenosine therapeutically stops seizures.
My Ultimate Goal
Epilepsy prevention is the ultimate goal in therapy development. My team found that a pathological reduction in adenosine not only triggers epileptic seizures, but also is a key factor in the development and progression of epilepsy. Therefore, increasing adenosine in the brain is a logical approach for the prevention of epilepsy. Therapeutic increases in adenosine can most effectively be achieved by using a drug, which blocks the major adenosine removing enzyme, adenosine kinase (ADK).
What Inspires Me
I love to seek the unknown and the challenge of the almost impossible. Whether it's scaling a mountain, travelling to a remote corner of our planet, or to engage in a new research project: it is always the quest of the unknown that keeps driving me forward. I also find inspiration in the inherent logic of evolution, which always came up with the most efficient pathways and mechanisms.
About Me
I graduated at the University of Köln, Germany, in 1994 with a PhD in Biochemistry. In 2005 I received the venia legendi (Habilitation) in Cellular Pharmacology from the University of Zurich, Switzerland, for my work on cell-based adenosine augmentation therapies. Over the past 25 years I have maintained a rigorous research program on translational adenosine research and have been continuously NIH funded since 2008. I have published over 163 papers with an h-index of 54.